Place Vendôme
(1998)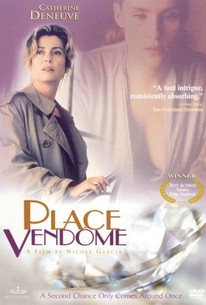 Movie Info
The death of Vincent Malivert, director of a prestigious jewelry shop on Paris' Place Vendome, has left his wife Marianne in a terrible predicament. A man driven to financial ruin, his life was apparently a mess, but he managed to hide this from Marianne. In the past, Marianne was an active jewelry broker herself. She worked with another man, Battistelli, and loved him intensely until the day he betrayed her. For a long time now she has lived in a state of alcoholic stupor. Then one day she discovers seven magnificent diamonds that her husband had stashed in a secret chest. The beauty of these gems slowly awakens her interest in life. While researching the gems, Marianne discovers a secret war between the DeBeers and a Russian cartel that threatens their monopoly. She meets up with Battistelli again. He is part of the cartel and is interested in taking possession of Marianne's diamonds. She now holds in her hands the destiny of the man who once betrayed her. But is she interested in vengeance?
Audience Reviews for Place Vendôme
Maybe I wasn't paying enough attention. Perhaps I was lost in translation. Probably it was the film looking broken between scenes itself. All I found is baffling however.
WS Wu
Murky plotline, mildly interesting delivery by Deneuve. Deneuve, wife of a prominent diamond merchant/jeweler (Fresson), has been living in a state of permanent rehab. Once a diamond merchant herself, her nerves are shattered and her drinking out-of-control from being relegated to the role of housewife under her controlling spouse and his staff. Meanwhile, Fresson's been struggling to keep the business afloat, the flow of his stones from ever-more shady sources. He stashes several of the best jewels for Deneuve at home as her insurance policy and then commits suicide. Deneuve has to sober up quick, pull herself up by her own bootstraps to survive the firm's pending bankruptcy and ply her old trade in vending the stones. All the while, she's trying to learn the stones' history and dodge those who would prefer to have them, including the original owners who are charging hard to collect their due. As with many French films, plot development is subtle and, in this mystery, almost too subtle for even the most attentive viewer to devine. At points, it's unclear even how many stones Deneuve's actually holding. Accordingly, advance knowledge of the players is helpful. Thinly bearded Berleand is Fresson's brother, wanting the stones to set the business right - and to set Deneuve back into cold storage. Balding Bacri is a down-and-out repo man, reluctantly enlisted by the owners. Dutronc's already owned by the owners; his walking brace suggests they don't forgive easily. Tall & sexy Seigner is a salesclerk for the firm, Fresson's former mistress, both Bacri's and Dutronc's lover - as well as a patsy in Dutronc's scheming. Deneuve's still lovely, but her age is telling: she's hardly the Belle de Jour we all remember. Still her delivery intrigues, and it's her presence, more than the murky & complex plot, that is the film's best recommendation.
TonyPolito Polito
½
[font=Century Gothic]"Place Vendome" is a languorous misfire about a prestigious diamond merchant, Vincent Malivert(Bernard Fresson), who gets involved with bad people by buying stolen diamonds in order to finance his alcoholic wife's(Catherine Deneuve) expensive treatments. Facing disgrace and bankruptcy, he commits suicide. This has all the elements of a quality film but it is edited in a seemingly random way which drains all the life out of it but it almost does come together near the end when it puts together an intriguing back story for the major characters. Overall, this feels like a first draft of a script or even an outline. There is also a good cast, but that is wasted, too, along with Deneuve's twitchy performance.[/font]
Place Vendôme Quotes
There are no approved quotes yet for this movie.
Discussion Forum
Discuss Place Vendôme on our Movie forum!