Place Vendôme
(1998)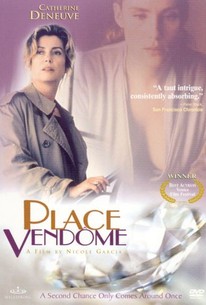 Movie Info
The death of Vincent Malivert, director of a prestigious jewelry shop on Paris' Place Vendome, has left his wife Marianne in a terrible predicament. A man driven to financial ruin, his life was apparently a mess, but he managed to hide this from Marianne. In the past, Marianne was an active jewelry broker herself. She worked with another man, Battistelli, and loved him intensely until the day he betrayed her. For a long time now she has lived in a state of alcoholic stupor. Then one day she discovers seven magnificent diamonds that her husband had stashed in a secret chest. The beauty of these gems slowly awakens her interest in life. While researching the gems, Marianne discovers a secret war between the DeBeers and a Russian cartel that threatens their monopoly. She meets up with Battistelli again. He is part of the cartel and is interested in taking possession of Marianne's diamonds. She now holds in her hands the destiny of the man who once betrayed her. But is she interested in vengeance?
Critic Reviews for Place Vendôme
Audience Reviews for Place Vendôme
½
[font=Century Gothic]"Place Vendome" is a languorous misfire about a prestigious diamond merchant, Vincent Malivert(Bernard Fresson), who gets involved with bad people by buying stolen diamonds in order to finance his alcoholic wife's(Catherine Deneuve) expensive treatments. Facing disgrace and bankruptcy, he commits suicide. This has all the elements of a quality film but it is edited in a seemingly random way which drains all the life out of it but it almost does come together near the end when it puts together an intriguing back story for the major characters. Overall, this feels like a first draft of a script or even an outline. There is also a good cast, but that is wasted, too, along with Deneuve's twitchy performance.[/font]
Place Vendôme Quotes
There are no approved quotes yet for this movie.