Plasterhead
(2006)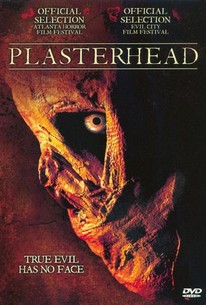 AUDIENCE SCORE
Critic Consensus: No consensus yet.
Movie Info
Four New Jersey college students seeking to soak up some sun in Florida during the winter break encounter a horrifying local legend after taking an ill-advised detour through the hills of West Virginia. Years ago, in the sleepy backwoods town of Rolling Glen, a black truck driver named Ray Williams was said to have been horribly brutalized and left for dead by the locals after stopping off for a quick drink. According to legend, Williams' body was dumped in an empty cornfield. In the aftermath of the abhorrent event, corrupt local sheriff Earl Taggart helped to acquit the men responsible for the crime, forever sealing the grim fate of this once-peaceful village. Fifteen years later, Taggart still rules over Rolling Glen with an iron fist; determined not to let his damning secret get out. But rumors persist that Williams didn't die in the attack, and that he still roams the outskirts of town subsisting on the local wildlife. Purportedly, Williams crafted a makeshift cast in order to cover his hideously mutilated visage -- thus earning him the name Plasterhead. Now, as a group of stranded teens seek shelter in a decrepit local farmhouse, they are about to find out that some urban legends are too terrifying to be simple fiction.
Critic Reviews for Plasterhead
There are no critic reviews yet for Plasterhead. Keep checking Rotten Tomatoes for updates!
Audience Reviews for Plasterhead
Plasterhead is a derivative slasher film that unfortunately doesn't work. The film suffers from a low-budget, a horrible cast, bad directing and a bad plot. This film might have worked well in a different decade. This is a low-budget bore fest that doesn't do anything thrilling to entertain the viewer. I find that the idea behind the story was good, but this film's execution was poor and cliché. The problem with this is that it's a slasher film that came out two decades too late. Sure there has been Slasher films since then, an d most were good, but this one just doesn't deliver. The acting is horrible, and the film is boring. There's nothing going on for the first 40 minutes, and that's enough for you to be bored out of your mind, and lose interest in this film. The film had potential, unfortunately it's wasted on such a bad script, and the acting doesn't make this a good film to watch. Plasterhead is a forgettable film ion the Slasher genre, and there are far better films in this genre that you can watch. This film is low-budget trash, unfortunately that's not why this film is bad. The film is bad because it lacks anything interesting, and fails to deliver anything that will appeal to horror fans. This could have been a great film, but it fails to deliver what you'd expect, and when there's something going on, it's too little too late.
When four friends are headed down to Miami for winter break they head off the highway and take the backroads of West Virginia when they stop for a break to figure out where they are one of them comes a across a bag with cash and a address inside they decide to return it which was there biggest mistake turns out this backwoods town has itself a killer named Plasterhead a trucker that years before was beaten by some of the locals and now wants his revenge. ok slasher movie wth a simple plot worth taken a look at if you got nothing better to do since this is a basic paint by numbers horror movie with no real shocks.
DVDs nowadays have all kinds of messages: This film has been formatted etc, etc, bonus materials are unrated and on and on. They really need to start including what format the film was shot on. If I had known this was shot on DV I wouldn't have bothered since DV (usually) equals no budget trash which is exactly what this is. Uneven acting, inconsistent annoying accents, crappy looking blood, not one decent kill and a clumsy-looking killer who so badly wants to be Michael Myers. Avoid at all cost.
A.D. Villarreal
Super Reviewer
Plasterhead Quotes
There are no approved quotes yet for this movie.