Pleasures of the Flesh (Etsuraku)
(1965)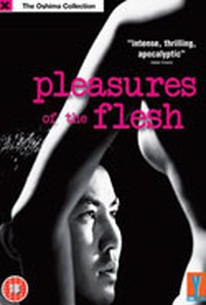 AUDIENCE SCORE
Critic Consensus: No consensus yet.
Pleasures of the Flesh (Etsuraku) Photos
Movie Info
Director Nagisa Oshima's film uses the "pink" genre to mask an allegory about the materialism of post-war Japan (the original title translates as "Indulgence"). Katsuo Nakamura stars as a man blackmailed by a thief, who makes him hold on to some stolen loot while the thief serves a jail sentence. Nakamura is led into temptation by all that money sitting around, so he decides to spend it on wild partying and sex before killing himself to avoid retribution. Like the films of Paul Morrissey, Etsuraku simultaneously exploits its subject matter and condemns it, to peculiar effect. ~ Robert Firsching, Rovi
Critic Reviews for Pleasures of the Flesh (Etsuraku)
There are no critic reviews yet for Pleasures of the Flesh (Etsuraku). Keep checking Rotten Tomatoes for updates!
Audience Reviews for Pleasures of the Flesh (Etsuraku)
½
Released in 1965, Nagisa Oshima's take on the then popular 'Pink' genre is a stylish thriller that explores the depths of nihilism, materialism, and the price of pleasure. Katsuo Nakamura plays Wakizaka, a teacher who having murdered the rapist of one of his students (whom he loves) finds himself blackmailed into hiding 30,000,000 yen of stolen money. When the student he murdered for decides to get married however, Wakizaka decides to spend all the money on his every sexual impulse and in doing so descends into a spiral of increasing paranoia. A film noir in its very essence 'Pleasures of the Flesh' is a beautifully shot feature that uses its increasingly nightmarish cinematography to great effect. Moments of surrealistic editing become more and more frequent as the film progresses and increase the sense of claustrophobia and entrapment, making it feel as if viewers themselves are falling alongside the protagonist. As effective as this is the film does however stumble across moments in which it feels plodding, drawing viewers out of immersion and becoming slightly boring. The sequence in which Wakizaka attempts to win Keiko's love is an example of this, and although it houses one of the most beautiful moments in the film, it can't help but feel like it took too long getting there. Despite supposedly being a 'pink' film the onscreen sex and violence is surprisingly tame, and the lacklustre ending feels as if it doesn't have the courage to live up to the other films of the genre or the increasing sense of immolation that preceded it. Verdict: An interesting character study that occasionally strays off course and misses the mark with its ending.
Cameron Sherwell
Super Reviewer
Impressive film about indulgence, hedonism, and love. A simple tale presented in a compelling fashion by Oshima. Exceeded all expectations I had. Great work by Oshima, worth a watch.
Boy, does this film work hard to set up its premise. Let's see...Atsushi is a teacher is secretly in love with Shoko, a young woman whom he formerly tutored. He finds out she was molested as a child, and murders the offender by pushing him off a train. A government worker who is destined for prison witnesses the crime, seeks out Atsushi and recruits him to temporarily hold 30 million yen which he has embezzled. He realizes Atsushi is obligated to help him, or risk having the murder exposed. Then Shoko marries someone else, and distraught Atsushi decides to nihilistically spend the money within a year and then kill himself before the embezzler returns from jail. He moves to an elegant new apartment, and hires a prostitute at an extravagant monthly salary to be his full-time lover. It's no coincidence that she resembles Shoko. Most of this occurs within the first 15 minutes! And of course, Atsushi is bound to regret his reckless plan. "Pleasures of the Flesh" is more accessible than other Nagisa Oshima works of the period -- it's in widescreen color and, despite some abstract electronic bits (similar to Antonioni's "Red Desert," released the same year?), the score is more traditional and even includes vocal songs. There is some dreamy use of double images and a few slow-motion passages, but the filmmaking is otherwise quite mainstream. What's lacking here are the usual resonances with Japan's contemporary culture. Instead of the timely youth-rebellion content of earlier Oshima movies, "Pleasures of the Flesh" is more of a standard film noir. Not so distinctly personal. And don't be misled by the lurid title: There is little sexual content to enjoy here.
Eric Broome
Super Reviewer
Pleasures of the Flesh (Etsuraku) Quotes
There are no approved quotes yet for this movie.