Pokemon: Giratina and The Sky Warrior
(2008)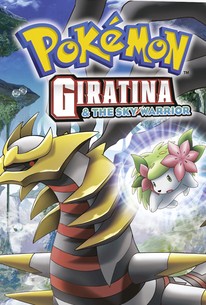 AUDIENCE SCORE
Critic Consensus: No consensus yet.
Pokemon: Giratina and The Sky Warrior Photos
Movie Info
This feature length movie from the Pokemon franchise finds Palika and Dialga engaged in a battle so fierce, that it ruptures the time-space continuum, and transports them to the Reverse World. The Reverse World's only Pokemon, Giratina, is none too pleased with their intrusion. Soon, the whole gang is involved in a plan to save it from a power hungry man named Zero, who has plans to harness Giratina's power and control Reverse world - destroying the real world in the process!
Audience Reviews for Pokemon: Giratina and The Sky Warrior
Pokemon: Giratina and the Sky Warrior is one of the many Kunihiko Yuyama animations in the universe of Pokemon.
At this point, there have been many a television episode, as well as other movies regarding Pokemon. The story for this particular film is more or less stand alone; however, lacking knowledge of Pokemon concepts and its characters will make this a difficult viewing.
Running just past the 90 minute mark, this film stretches the story out enough to get to the end. There are a plethora of Pokemon appearances and the story itself revolves around powerful and rare breeds. The meat of the story does have its explanations, but the existing Pokemon elements, such as moves and types, are expected to be understood beforehand.
Visually, the animation is colorful and playful, which is great for a younger audience. There are even some CG effects blended in. The voice work and sound effects are also nicely done, while some of the Pokemon look and sound completely adorable.
Sure, Pokemon: Giratina and the Sky Warrior is somewhat childish, but even mature audiences can get into the fun.
Pokemon: Giratina and The Sky Warrior Quotes
There are no approved quotes yet for this movie.
Discussion Forum
Discuss Pokemon: Giratina and The Sky Warrior on our Movie forum!