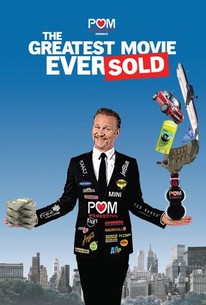 Pom Wonderful Presents: The Greatest Movie Ever Sold
2011, Documentary/Comedy, 1h 26m
134 Reviews
10,000+ Ratings
What to know
critics consensus
The Greatest Movie Ever Sold plays smartly to Spurlock's strengths, and the result is a breezy, albeit not particularly enlightening documentary. Read critic reviews
Where to watch
Rent/buy
Rent/buy
Rate And Review
Pom Wonderful Presents: The Greatest Movie Ever Sold Photos
Movie Info
Fascinated by the ubiquity of advertising, documentarian Morgan Spurlock decides to make a film solely financed by product placement. Though many of the companies he contacts decline to participate, Spurlock gains support from businesses such as JetBlue Airways and Ban deodorant. While pitching his ideas, Spurlock visits Sao Paulo, where commercial outdoor displays have been banned, and a Florida school district forced to allow in-school advertising to continue operating.
News & Interviews for Pom Wonderful Presents: The Greatest Movie Ever Sold
Audience Reviews for Pom Wonderful Presents: The Greatest Movie Ever Sold
I think I am one of the few who didn't see Spurlock's film on McDonalds. The concept is interesting but the execution seems to be marred by the product placement which serves as the central premise of the film. A better approach would have been an arm's length discussion of this issue.

Interesting documentary on advertising and product placement funded solely by advertising and product placement. Indeed.

Stop me if you've heard this one before: There is marketing and product placement in movies! (Okay, you're right. I probably wouldn't be so glib if the inside of the TARDIS resembled the outside of a racing car.) (And hey, I like trailers because I can get a sense of a movie's visual style that a review may not be able to convey.) At least, it seems news to Morgan Spurlock, somehow unaware that the practice of product placement goes back as far as the early days of radio. He also thinks that because of how ubiquitous this may seem in movies these days, nobody who makes them currently has any artistic integrity at all, forgetting iconic filmmakers like David Fincher and John Sayles.(What I think Spurlock is getting at is the state of Hollywood, therefore accidentally making a great case for independent movies.) So, if nobody else has any, then it is apparently quite okay for him, in the name of transparency to show how marketing influences movies(ignoring the fact that anybody with something to protect will act differently when they know the camera is running), to prostitute himself to raise funds for this documentary(Jimmy Kimmel may be joking but I am not), even shaking the hand of Donald Trump, while overriding the warnings of those older and wiser than him. While not as half as smart as he thinks he is, Spurlock is at least a genial host. Still, that does not, with the exception of the interlude in Sao Paolo where they have banned billboards, excuse his not offering any alternatives, as he does not have anything to say that Bill Hicks already did two decades previously with much more anger and humor. In the future, it will be interesting to see how effective Kickstarter will be at funding movies, whose emergence has also dated this documentary.

Morgan Spurlock made a movie about advertising in movies with money from sponsors. Not only is it a very smart idea, but it also makes for a good documentary. Spurlock is entertaining and witty as he moves along in an attempt to try to get sponsorship for his film. Some good points are brought up and things you wouldn't think about advertisers are brought to your attention. It's much deeper than Morgan delves, but he also wants to keep Pom Wonderful Presents: The Greatest Movie Ever Sold entertaining. He creates a great combination between entertaining and informative. It's a definite watch for any documentary fan. And I tried Pom Wonderful after seeing it. It's good.
See Details