Prefontaine
(1997)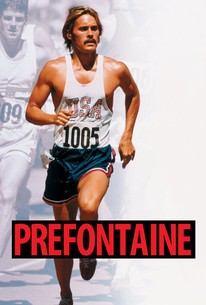 Movie Info
In the early 1970s Steve Prefontaine broke every American track record for 2,000-10,000 meter racing. When he went to the 1972 Olympics in Munich he did not win a medal, but he did go on to fight for athletes' rights up until his tragic death in 1974.
News & Interviews for Prefontaine
Critic Reviews for Prefontaine
Audience Reviews for Prefontaine
Sports films are boring and if "Chariots of Fire" taught us anything, that rule applies even to films where we get a close view of people running. Wow, when you say it, that actually does sound boring, but not in your head and, well, not here. Man, Jared Leto and his charisma cracked the code and made an entertaining sports film. Of course, what can you expect from a rocker? Oh wait, he's contemporary. Sorry Jared, but no matter how much you yell about kings and queens, if you're not playing Freddie Mercury, I'm not interested, but mostly because you've got to get back into films, because no matter what Edward Norton says, that beautiful thing of yours called acting is far from destroyed... I said only having just seen film he did almost "fifteen" ago. Still, when his career was first blooming, ... Jared Leto was already in movies no one had heard about, which isn't to say that he wasn't good in them, because he really was, and although he carries this film, he doesn't entirely carry it away from its flaws. As I said earlier, the film isn't particularly boring, like most sports films, but I never said that it wasn't captivating. It's not that the subject isn't fascinating, which it is, but the themes they use in the film, while rather inventive in the biopic genre, aren't handled very well. The film features segments where they show a montage of interviews with Prefontaine's loved ones. It's not quite like "Confessions of a Dangerous Mind", for instead of incorporating that theme in every now and then, this film overdoes that for a long time, making the film feel so much like a documentary and stripping of it of its intimate tone, leaving to feel hollow and unengaging. However, those segments come and go, but when they do finally go, there's such a dent left by the documentary theme and the transitions between the themes are barely palpable, making it hard to get back into the film. Still, getting back into the film would be a much more demanding task were it not for, of course... the great soundtrack. Oh yeah, and let's not forget the acting. Ed O'Neill and R. Lee Ermey are playing... well, Ed O'Neill and R. Lee Ermey. Still, the two are as charismatic as a coach can get and they work wonders off of Jared Leto, establishing a chemistry that's not terribly explored, yet strong enough for you to enjoy their time together. Still, no matter what, if it's a scene with Jared Leto, it's enjoyable. Okay, now, as much as I've been praising him, he's not terribly stellar, but only because he's not written to be. Still, what he is given to do he milk's for all it's worth with his charisma, emoting and captivatingly striking authenticity as Steve Prefontaine. Still, he's not simply tranforming into Prefontaine. Prefontaine, himself, went through some changes, and Leto's impressively careful, but effective execution of every layer and characteristic in Prefontaine really does top off his transformation and makes him quite a strong enough lead to carry this film from its beginning to its solid ending. At the end of the race, its messily-handled storytelling techniques put a dent in the engagement value, but with a strong story, carried by an excellent Jared Leto and his chemistry with the charming cast, "Prefontaine" ultimately stands as an entertaining and satisfying study on the rise of the late, great legend of the track. 3/5 - Good
Cameron Johnson
Super Reviewer
While there seem to be many different opinions on weather or not the facts in the film are accurate, the fact remains that this was a fantastic movie that perfectly illustrated the drive and determination that made pre a national icon. Jared Leto is amazing as well. Based on his other work, to be honest, I didn't think he had it in him, but he really surprised me and does an excellent job with the role. It's inspirational and a great tribute to a great man. I would definatly suggest seeing it!.
Todd Smith
Super Reviewer
Good sports movie. Pre-rock star Jared Leto...
Cynthia S.
Super Reviewer
Prefontaine Quotes
There are no approved quotes yet for this movie.
Discussion Forum
Discuss Prefontaine on our Movie forum!