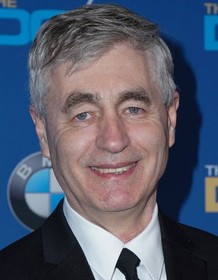 Steve James
Highest Rated: 100% The Rescue List (2017)
Lowest Rated: 56% Prefontaine (1997)
Birthday: Mar 8, 1955
Birthplace: Hampton, Virginia, USA
Back in 1987, documentary director-producer Steve James and his partner Frederick Marx joined with director of photography and producer Peter Gilbert to create a documentary about two ghetto youths from Chicago playing high school basketball and pursuing their dream to be on an NBA team. The filmmaking trio had only $2,500 with which to make the documentary, so they shot on video. After logging more than 250 hours of footage, they knew they had something more than a mere TV documentary. Instead, the result turned out to be the feature documentary "Hoop Dreams" (1994), which earned a place on most Top 10 lists and won virtually every critical award as Best Documentary although in a brouhaha that eventually changed the way Hollywood judges documentaries failed to be nominated for an Academy Award. In what was viewed as a sort of consolation prize, "Hoop Dreams" did earn an Oscar nomination for Best Film Editing. Some of the unused footage was employed in the 30-minute TV documentary "Higher Goals" (PBS, 1992) which was nominated for an Emmy. With Spike Lee, the trio has also been collaborating on an TNT special based on the film.
Photos
AMERICAN NINJA 3: BLOOD HUNT, from left: Steve James, David Bradley, 1989, © Cannon Films
AMERICAN NINJA, Steve James, 1985, © Cannon Films
AMERICAN NINJA, from left: Michael Dudikoff, Steve James, 1985, © Cannon Films
DELTA FORCE, Chuck Norris, Steve James, 1986, (c)Cannon Films
LIFE ITSELF, director Steve James (left), Martin Scorsese (center), on set, 2014. ©Magnolia Pictures
WEEKEND AT BERNIE'S II, Steve James, Terry Kiser, Tom Wright, 1993, (c)TriStar Pictures
STEVIE, Gordon Quinn, Steve James, Stephen Fielding, Adam Singer, 2002
THE DELTA FORCE, Steve James, Lee Marvin, Chuck Norris, 1986. (c) MGM / .
REEL PARADISE, director Steve James, cinematographer P.H. O'Brien, sound technician Rich Pooler filming on set, 2005, (c) Wellspring
AMERICAN NINJA 2, from left: Michael Dudikoff, Steve James, 1985. ©MGM
STEVIE, Stephen Fielding, Steve James, 2002
LIFE ITSELF, director Steve James, 2014. ©Magnolia Pictures
PREFONTAINE, director Steve James, producer Peter Gilbert, 1997. ©Buena Vista Pictures
DELTA FORCE, Steve James, Lee Marvin, Chuck Norris, 1986, (c)Cannon Films
THE EXTERMINATOR, (aka LE DROIT DE TUER), Steve James (rear), 1980, © Avco Embassy
AMERICAN NINJA 2: THE CONFRONTATION, Michael Dudikoff, Steve James, 1987, (c)Cannon Films
AMERICAN NINJA 2: THE CONFRONTATION, Steve James, 1987, (c)Cannon Films
WEEKEND AT BERNIE'S II, from left: Steve James, Terry Kiser, Tom Wright, 1993, © TriStar
Steve James at arrivals for LIFE ITSELF Premiere, ArcLight Cinemas Hollywood, Los Angeles, CA June 26, 2014. Photo By: Dee Cercone/Everett Collection
Filmography
Movies
Credit

81%

86%

A Compassionate Spy
Director,
Screenwriter,
Producer,
Film Editor
$34.5K
2022

100%

No Score Yet

Let the Little Light Shine
Executive Producer
-
2022

100%

91%

Minding the Gap
Executive Producer
-
2018

78%

71%

Edith+Eddie
Executive Producer
-
2017

100%

No Score Yet

The Rescue List
Executive Producer
-
2017

93%

85%

Abacus: Small Enough to Jail
Director
$111.8K
2016

No Score Yet

No Score Yet

Lucky
Executive Producer
-
2014

98%

88%

Life Itself
Director,
Producer,
Film Editing
$809.7K
2014

No Score Yet

No Score Yet

We the Economy: Inequality 3: The Value of Work
Director
-
2014

88%

77%

Head Games
Director
$11.2K
2012

99%

82%

The Interrupters
Director,
Producer,
Cinematographer,
Film Editing
$250.5K
2011

89%

No Score Yet

No Crossover: The Trial of Allen Iverson
Director
-
2010

100%

81%

At the Death House Door
Director
-
2008

98%

83%

The War Tapes
Producer,
Film Editing
$254.2K
2006

69%

61%

Reel Paradise
Director,
Producer,
Film Editing
$31.0K
2005

No Score Yet

54%

Joe and Max
Director
-
2002

91%

89%

Stevie
Director,
Producer,
Film Editing
$97.0K
2002

No Score Yet

79%

Passing Glory
Director
-
1999

56%

78%

Prefontaine
Director,
Writer
$584.2K
1997

98%

93%

Hoop Dreams
Narrator,
Director,
Writer,
Producer
$7.8M
1994
TV