Prime
(2005)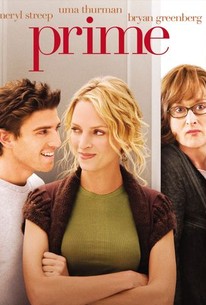 TOMATOMETER
AUDIENCE SCORE
Critic Consensus: Though Streep is dependably terrific in her role, the rest of the movie is too sitcom-ish, and the romance itself is dull.
Movie Info
Ben Younger's Prime tracks what happens to a variety of different people when a man and a woman fall in love with each other. Uma Thurman portrays Rafi Gardet, a 37-year-old divorcée. One day a twentysomething artist from Brooklyn named David Bloomberg (Bryan Greenberg) falls in love with the Manhattan professional. The film shows how this relationship affects people who know the two of them, including Rafi's therapist, Lisa Metzger (Meryl Streep).
People Who Like this movie also like
News & Interviews for Prime
Audience Reviews for Prime
½
A lightly neurotic Shiksa divorcee of a certain age falls in love with a twenty-something who turns out to be the ridiculously good-looking son of her very Jewish psychoanalyst. Really quite sweet and Annie Hall-esque, down to the bittersweet closing montage of Rafi and David's time together. The sprinkling of Jewishisms is more earnest (than in Allen fare) and contemporary with the Jewish hip hop soundtrack, and the mistaken identity plot is funny but not too embarrassing or uncomfortable. The moment of revelation isn't "Greek in scope"; it's quiet and stunned. Bryan Greenberg is just really, really, ridiculously good-looking, and Uma Thurman is charming in a way I haven't appreciated in the past. I love the scene with Morris having to hide in the closet, then being startled by the cat, then feeding the cat beer, then sneezing because he's allergic, and subsequently, giving himself away.
Alice Shen
Super Reviewer
I thought this film was well done. Young pretty guy falls for beautiful "older" woman (Uma Thurman). It just turns out that Uma's shrink (Meryl Streep) is pretty guy's mom. Imagine the possibilities! Meryl plays the Jewish mother/therapist well.
½
Disposable and enjoyable fluff that's funny, touching and vascillates between the realistic and the hyper-glossy. I was with it until about the last 15 minutes, when it started pulling punches and went saccharine on me. Lazily acted (even by Meryl Streep), but sharply written otherwise... I'm damning it by faint praise, aren't I? I was mostly interested to see this because I liked Bryan Greenberg in Unscripted, where we saw him totally hungover trying to shoot the furniture store scenes. Take Nora Ephron and water her down, and you get a movie like this: it's not terrible, but that's about the best I can say for it.
Daniel Perry
Super Reviewer
Prime Quotes
There are no approved quotes yet for this movie.