Professor Marston & The Wonder Women
(2017)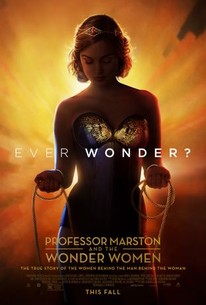 TOMATOMETER
AUDIENCE SCORE
Critic Consensus: Professor Marston & The Wonder Women winds a lasso of cinematic truth around a fascinating fact-based tale with strong performances from its three stars.
Professor Marston & The Wonder Women Videos
Professor Marston & The Wonder Women Photos
Movie Info
In a superhero origin tale unlike any other, the film is the incredible true story of what inspired Harvard psychologist Dr. William Moulton Marston to create the iconic Wonder Woman character in the 1940's. While Marston's feminist superhero was criticized by censors for her 'sexual perversity', he was keeping a secret that could have destroyed him. Marston's muses for the Wonder Woman character were his wife Elizabeth Marston and their lover Olive Byrne, two empowered women who defied convention: working with Marston on human behavior research -- while building a hidden life with him that rivaled the greatest of superhero disguises.
News & Interviews for Professor Marston & The Wonder Women
Critic Reviews for Professor Marston & The Wonder Women
Audience Reviews for Professor Marston & The Wonder Women
Professor Marston and the Wonder Women is an overlooked little gem of a movie about the author and creator of the Amazonian princess and how his unusual, polyamorous relationship with two other women influenced both his life and his work. Rather than follow the well-tread and tired path of most biopics, we follow the three pivotal characters - Marston himself, his wife Elizabeth, who is also an accomplished Harvard professor, and Olive, a teacher's assistant. So yes, the central conceit and hook of the film is that all three become romantically involved with each other (and I do mean ALL three), but we also see how slowly these two women influenced the creation of Diana Prince, as aspects of her personality and appearance were utilized. Professor Marston for the most part is a slow-moving and engaging period piece and is very much a female-centric picture with two of the main leads being women and the director (Angela Robinson) keeping the focus of the relationship honest and restrained, without it ever becoming lurid. "Male gaze" is not a factor here, even with the presence of nudity and bondage scenes galore. There is also quite a bit of attention on society's intolerance for alternative sexual relationships and how it utterly ruins the main character's lives at every turn. Luke Evans has proven himself to be compelling in smaller roles, but it is Rebecca Hall and Oliver Byrne who carry the film here. Their chemistry and emotive moments make it all worthwhile. This is a solid film, and worth a look, considering how Wonder Woman is back on the cultural radar due to 2017's smash summer success. But even without recent interest, it would still be worth a look to see how an unconventional relationship created such an extraordinary and timeless character. Amazon. Crime fighter. War hero. Goddess. A symbol of feminine strength. Wonder Woman.
Joshua Sheetz
Super Reviewer
If you would ever wonder how this film managed to become so powerful to the mind, yet has trouble attempting to get a higher score than it has received, Professor Marston and the Wonder Women easily reminds you, although very unmissable at first attempts of watching, why it attempts to purposely fail to earn a higher score.
EpicLadySponge the Adventurer
Super Reviewer
Professor Marston & The Wonder Women Quotes
There are no approved quotes yet for this movie.
Discussion Forum
Discuss Professor Marston & The Wonder Women on our Movie forum!