Project Nim
(2011)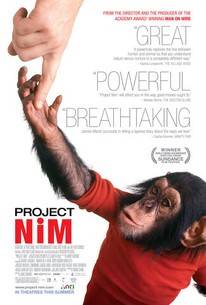 TOMATOMETER
AUDIENCE SCORE
Critic Consensus: Equal parts hilarious, poignant, and heartbreaking, Project Nim not only tells a compelling story masterfully, but also raises the flag on the darker side of human nature.
Movie Info
From the team behind Man on Wire comes the story of Nim, the chimpanzee who in the 1970s became the focus of a landmark experiment which aimed to show that an ape could learn to communicate with language if raised and nurtured like a human child. Following Nim's extraordinary journey through human society, and the enduring impact he makes on the people he meets along the way, the film is an unflinching and unsentimental biography of an animal we tried to make human. What we learn about his true nature - and indeed our own - is comic, revealing and profoundly unsettling. -- (C) Roadside Attractions
News & Interviews for Project Nim
Critic Reviews for Project Nim
Audience Reviews for Project Nim
"I thought wouldn't it be exciting to communicate with a chimp and find out what it was thinking." Tells the story of a chimpanzee taken from its mother at birth and raised like a human child by a family in a brownstone on the upper West Side in the 1970s.
REVIEW
The very idea of a chimp being brought up in human society is a fascinating one. But it quickly becomes apparent that this experiment is doomed to failure. There is a very good reason that you do not see people keep chimpanzees as pets - they can be extremely aggressive and powerful animals. On numerous occasions carers were bitten and maimed. One woman had a hole ripped in the side of her face while another had her head repeatedly beaten off the pavement by the ape. But the over-riding feeling engendered by the documentary is one of sadness. This poor creature is let down by those who took him from his mother and decided to rear him as a human. It seems to me quite outrageous that an animal taught to communicate with people and live in a house should ever have been sent to an animal experiment centre. The essential message of the film is that you should not try to transport a wild animal into human society and not expect repercussions. Some of the people in the film are just guilty of naivety, dangerous as it was. As much as a story about a remarkable primate, it's a story about human stupidity, human callousness and - thanks to Bob Ingersoll - human kindness. It's overall a remarkable documentary.
Lorenzo von Matterhorn
Super Reviewer
½
Four million dogs and cats out of the eight million that enter America's shelters are euthanized each year. If a number alone doesn't stir your emotions, Project Nim will. Among many other things, this movie is a close-up, extreme case of our apathetic, conditional love towards other beings, be them human or otherwise. The movie doesn't accuse anybody, but with actual footage and narration by those involved in Nim's life, it implicitly argues that if we want to include animals in our home, we have a responsibility for their whole life, including understanding them on their terms and providing for their needs (and knowing this information BEFORE bringing them into our life). It reminds me of the conversation held at the beginning of the movie Artificial Intelligence: "It occurs to me ...it isn't just a question of creating a robot that can love. Isn't the real conundrum, can you get a human to love them back?"
Matthew Slaven
Super Reviewer
½
'Project Nim'. A chimp raised as a human child and then senselessly moved and emotionally mistreated. For "science". Devastating.