Punishment Park
(1971)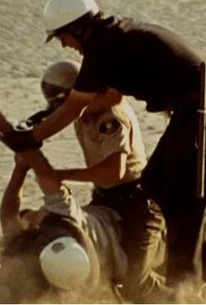 Movie Info
With the war in Vietnam is escalating, there is massive public protest in the United States and elsewhere. President Nixon declares a state of national emergency and the Federal authorities are given the power to detain persons judged to be a risk to internal security. In a desert zone in southwest California, a civilian tribunal passes sentence on groups of dissidents and gives them the option of participating in law enforcement training exercises in the Bear Mountain National Punishment Park. In an atmosphere of aggression and intimidation and in soaring temperatures, the prisoners have to fight for their lives as they are hunted down by the forces of law and order.
Critic Reviews for Punishment Park
Audience Reviews for Punishment Park
one of the best political films from the turbulent period of leftist activism of the late 60s and still just as relevant today, what with guantanamo bay still open
Stella Dallas
Super Reviewer
The premise of this Peter Watkins mockumentary is an instant grabber. We're dropped into an alternate Vietnam-era America. The government is abusing an existing law (the McCarran Internal Security Act) to detain hippies who may pose a threat to the country. Groups of shaggy subversives are taken to a tent somewhere, quickly convicted in a kangaroo court and given a choice of either multiple years in prison or a risky trip to Punishment Park. Typically, they choose the latter. "Punishment Park" is the code name for a sadistic test where offenders are released in the California desert (without water) and told they'll be freed if, within three days, they can hike to an American flag planted 53 miles away. As if that assignment isn't tough enough, armed soldiers aggressively stalk them, giving them a mere two-hour start. Allegedly, the soldiers are there just to ensure the offenders follow the rules, but they're itching for any excuse to open fire. It's a rigged game. Fantastic, so far. But "Punishment Park" can turn painfully shrill and strident. The plot jumps between two separate arcs: a group of people enduring the desert trek, and a second group facing the court panel. The latter is where most of the problems lie. Though the improvised dialogue has a convincing realism, the accused's screechy, ham-fisted testimonies are a serious chore to endure. Interesting that "Punishment Park" was released the same year as "Billy Jack," because the films are gratingly unsubtle and sanctimonious in a similar way. While the stereotypical defendants rage about the war, man, and the government telling them to do stuff, the dozen or so Punishment Park youths split into three factions (separated in the credits as "militants," "semi-militants" and "pacifists"). Some mount a preemptive attack on the soldiers. Some try to slog through the full trip. And some just give up. None of these strategies are likely to pay off. The outdoor struggles are stark and dramatic, but there's one bit of poetic license that's not quite forgivable. An unseen cameraman (voiced by Watkins himself) follows the weary travelers, and even becomes a plot point when he eventually protests the soldiers' unfair tactics. But while the prisoners grow more and more dehydrated and exhausted, there is no sense of the cameraman deteriorating -- even though he's carrying all that technical gear! The film could have been more interesting if the footage quality wobbled as its maker also neared water-deprived delirium. The amateur cast has no familiar faces beyond character actor Carmen Argenziano, but veteran jazz drummer Paul Motian composed the soundtrack. "Punishment Park" never found a distributor in the States, due to its controversial story. The closing credits add an ironic note that an actor who played one of the courtroom rebels soon drew a real-life prison sentence for assaulting a police officer.
Eric Broome
Super Reviewer
"Punishment Park" is a chilling pseudo-documentary about political prisoners being sentenced before a judge and tribunal in violation of the Constitution. They are then given the choice between a lengthy jail sentence or Punishment Park. At such a place, they are given 3 days to run 53 miles in boiling heat with a two hour head start. Even though the movie was made in 1971 and references the Chicago 7 trial(with more gender balance here) and the Kent State shooting, "Punishment Park" still has relevance for the modern day, especially considering events after 9/11 including Guantanamo Bay, extraordinary rendition and the Patriot Act. While police brutality is nowhere near as bad as it once was, if I see a policeman or a soldier patrolling Penn Station, I am not reassured because I am just reminded why they are there in the first place. All of which is just a starting point for director Peter Watkins to explore the idea of pacifism in a larger context. While some might view pacifists as extremists in their own right, their role is actually much more important as they seek to explore a better way than violence. So, admit it guys. Intervention in Libya has less to do with protecting civilians than a chance to oust Qaddafi while somebody else does the heavy lifting.
Punishment Park Quotes
There are no approved quotes yet for this movie.