Purgatory House
(2003)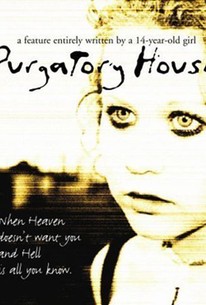 Movie Info
Neophyte director/producer Cindy Baer helms the quirky goth afterlife drama Purgatory House, written by the prodigious 14-year-old scenarist Celeste Davis (who also stars). Davis plays Silver Strand, a backward teen who, disgusted with her status as a social pariah and unfulfilled goth hopeful, decides to off herself. She winds up in a purgatory realm that resembles a sketchy juvenile-delinquency home, watched over by Saint James, a caretaker perpetually dressed in a white suit (and played by Tom Hanks' younger brother, Jim Hanks). Once there, Silver must watch the activities of her Earthbound friends on the "Earth TV" network, and is forced to wear the same clothes and makeup over and over again.
Critic Reviews for Purgatory House
Audience Reviews for Purgatory House
Summary: A film about a teen girl who commits suicide and ends up living in purgatory. The Good: This film is very ambitious, and pretty good being that it was written by a 14 year old. It is definitely not your average same old boring movie, it breaks the mold and is surprisingly original. For being very low budget the acting is decent (with exceptions), story is solid, and though the soundtrack is completely just popular songs performed by unknown cover-bands, it still sounds good. The Bad: I didn't really like the visual style of the film. I think it probably would have been better if I streamed in HD but I do think it was better than having no visual style at all. Ratings: Acting: 6/10 Story: 6/10 Originality: 7/10 Soundtrack: 7/10 Characters: 4/10 Overall: 6/10
Professor Wizenhymer
Super Reviewer
½
I don't really know what to say about it. It deals with a very deep, emotional subject. I say with being written by a 14 year old it really is quite powerful and eye opening. I give it a thumbs up even though it's not the cream of the crop.
Leigh Ryan
Super Reviewer
½
Creative & playful look into heaven, hell, God, and purgatory of course - done by a 14 year old girl.
Sarah Prisbylla
Super Reviewer
Purgatory House Quotes
There are no approved quotes yet for this movie.