Shizukanaru ketto (The Quiet Duel) (A Silent Duel)
(1949)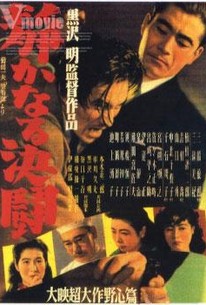 AUDIENCE SCORE
Critic Consensus: No consensus yet.
Movie Info
A dedicated army surgeon finds his once-bright future suddenly obscured when he contracts syphilis while performing a life-saving operation in this early collaboration between director Akira Kurosawa and Toshirô Mifune. Contaminated with a disease that was virtually incurable in 1940s Japan, Fujisaki returns home from the war to work presided over by his obstetrician father (Takashi Shimura). As Fujisaki furtively agonizes over the havoc that the disease will wreck on his upcoming marriage, his noble attempts to save the lives of his many patients masks a silent desperation that will likely remain with him to his final hour. ~ Jason Buchanan, Rovi
Critic Reviews for Shizukanaru ketto (The Quiet Duel) (A Silent Duel)
All Critics (2) | Fresh (2) | Rotten (0) | DVD (2)
Despite moments of melodrama ... contains a great deal to savor
Yes, it's a hospital, disease-of-the-week melodrama, but it contains many touches of Kurosawa's brilliance.
Audience Reviews for Shizukanaru ketto (The Quiet Duel) (A Silent Duel)
½
another kuro-san classic. the subject matter is engaging and the love story draws in an appropriate amount of sentiment.
½
[font=Century Gothic]In "The Quiet Duel," Dr. Kyoji Fujisaki(Toshiro Mifune) works at his father's(Takashi Shimura) clinic after World War II. He has been engaged to Misao(Miki Sanjo) for six years but has still not set a date due to a very good reason. During the war, Kyoji was working at a field hospital when he contracted syphilis from a patient(Kenjiro Uemura) during surgery and has kept it a secret from everbody until now. However, that changes when Minegishi(Noriko Sengoku), a probationary nurse that he took in after he prevented her suicide attempt, walks in on him as he is injecting himself.[/font] [font=Century Gothic][/font] [font=Century Gothic]"The Quiet Duel" is a strong if melodramatic movie about a country pulling itself together from the ruins of war. Like most of his contemporaries, Akira Kurosawa's sympathies are clearly with the downtrodden and does not judge them for their actions. In turn, he asks that we all care for each other, much the way Kyoji has selflessly done.[/font]
Shizukanaru ketto (The Quiet Duel) (A Silent Duel) Quotes
There are no approved quotes yet for this movie.