Radio Flyer
(1992)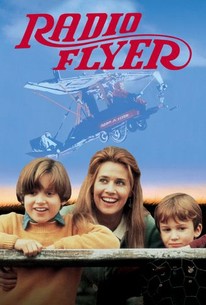 Movie Info
Two brothers are the victims of their widowed mother's violent drunkard husband who spares no rod with the youngest brother. Reverting to a world of make-believe, they imagine that their Radio Flyer wagon can fly and that in it they can escape their tormenting stepfather. This film deals in an almost make-believe manner with the serious issue of child abuse. ~ Rovi
People Who Like this movie also like
Critic Reviews for Radio Flyer
Audience Reviews for Radio Flyer
An interesting story, but not all that memorable.
Tim Salmons
Super Reviewer
½
Sweet, sappy and predictable.
Thomas Johnston
Super Reviewer
½
"Powered by imagination." A father recounts a dark period of his childhood when he and his little brother lived in the suburbs.
REVIEW
Not much material nearly grounds "Radio Flyer" pretty quick, but in the end the film is somewhat enjoyable and almost becomes one of the biggest surprises of the 1990s. Tom Hanks tells his two young sons about a dark time when he (Elijah Wood in the flashbacks) and younger brother Joseph Mazzello moved to the suburbs in California with mother Lorraine Bracco. Almost immediately she meets trouble-maker Adam Baldwin (his face barely seen throughout the film) and marries him. It is crystal clear that Baldwin is a child abuser, always choosing Mazzello as his target. A plan develops very quickly by the two youngsters to turn Mazzello's new wagon into a flying machine so he can get away from Baldwin's abuse. The film has many holes in it, but it still remains interesting nonetheless. Co-directors Richard Donner and David M. Evans almost turn the movie into a whimsical fantasy and I am not sure that was a good thing. It also seems that a lot of trouble went into Wood and Mazzello's plan when it would have been so much easier to go to their mother or local police officer John Heard and explain the situation. The film-makers wanted to show the movie through a child's point-of-view ala "E.T.---The Extra-Terrestrial", but a truly gifted director like Steven Spielberg is one of the few people that could pull that off successfully. "Radio Flyer" is above average and still pretty good in spite of numerous shortcomings. Ben Johnson adds an endearing cameo and really should have had a little more airtime.
Lorenzo von Matterhorn
Super Reviewer
Radio Flyer Quotes
There are no approved quotes yet for this movie.