Rams (Hrútar)
(2016)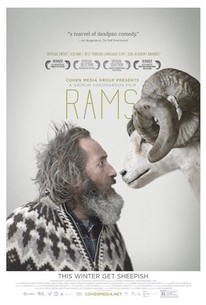 TOMATOMETER
AUDIENCE SCORE
Critic Consensus: Rams transcends its remote location -- and somewhat esoteric storyline -- by using the easily relatable dynamic between two stubborn brothers to speak universal truths.
Movie Info
Winner of the Un Certain Regard prize at this year's Cannes Film Festival and Best Narrative Feature at the Hampton's Film Festival, this charming, stunningly shot drama focuses on two Icelandic sheep farmers whose decades-long feud comes to a head when disaster strikes their flocks. In a secluded valley, estranged brothers Gummi and Kiddi live side by side tending to their prized ancestral sheep stock, despite not having spoken in 40 years. When a lethal disease suddenly infects Kiddi's sheep, all the animals in the area are culled to contain the outbreak, with many farmers abandoning their land. But the brothers don't give up so easily-and each tries to stave off the disaster in his own fashion: Kiddi by using his rifle and Gummi by using his wits. As the authorities close in, they will need to come together to save the special breed passed down for generations-and themselves-from extinction.
News & Interviews for Rams (Hrútar)
Critic Reviews for Rams (Hrútar)
Audience Reviews for Rams (Hrútar)
This is the type of movie that will definitely seem boring to someone who's top 5 movies of all time are from Marvel's Cinematic Universe. Maybe that's just me generalizing, but I just don't think those kind of people will find something to enjoy here. I sure as shit hope I'm wrong, but the fact of the matter is that this movie wasn't a major success abroad. It may have gotten a very limited released on this side of the world, but it probably didn't really make that much money to begin with. The point is that I can see how someone who enjoys casual films might watch, say, 10 minutes of this and then decide to shut it off, never to think about it again. But, realistically speaking, those people would actually be missing on one hell of a movie. Though it's the type of movie that builds up to what, I would say, is an excellent third act. It does, however, take some getting there. It's not a movie that's gonna reveal all its cards 15 minutes into it. And not that there's really much of a mystery going on here, outside of why the brothers are feuding and haven't spoken for over 40 years, but it's a movie that spends its time establishing its characters and their motivations. Essentially, the movie deals with the aforementioned brothers, who are neighbors despite not having spoken in over 4 decades, and the complications they deal with after their respective flocks are killed off due to an infection. The film sees the brothers feuding for what, Kiddi, the balding one, perceives as Gummi's betrayal, as he was the one who informed someone else that one of Kiddi's sheep may have the infection. The brothers' feud is subtly expanded upon as both have pretty much centered their entire lives around being the best possible sheep farmer and outdoing the other brother. Both are unmarried and don't have any other relatives outside of each other. They've spent their entire adult lives, both clearly being over their 60s at this point, on a feud that, essentially, boils down to the fact that their father left the farm in the hands of Gummi. But the thing that drives them apart, in general and at the start of the film, is also the thing that brings them together at the end. Gummi killed his own sheep before the vets got there, but he kept 6 or 7 of them in his basement, one male and the rest female, and has successfully gotten the male to breed with all of the females. He is found out and he enlists Kiddi's help in order to help hide the sheep. They decide to take them up a mountain, the problem is the fact that there's a pretty severe snowstorm going on at the same time. And I think that this where the movie is at its best, mostly because of the simplicity of it all. Gummi finds himself in a situation where he's suffering from hypothermia as a result of this snowstorm. Kiddi digs out a cave and puts his brother in it, he gets in and gives his brother body heat and he's clearly very worried and affected. And I think this gives way to the silliness of their decades-long feud. It's got some universal themes that we can all relate to. Not necessarily holding on to a grudge for that long, but just being stubborn in regards to certain things and pushing the people that should love you the most away. The film hits onto something that feels real and believable, at least within its own context. It's also helped by some really strong performances by the two leads. They really are excellent, even if the film doesn't have a lot of conventional dialogue. But those two really do a fantastic job. And the third act really does push the film into the great territory, to me at least. I realize this may not have been a great review, but I really do think that this was a great movie. It's not gonna be everyone's cup of tea, but the cinematography is excellent, the character development is strong and the performances are great. I can't really complain about this movie in the slightest. It's a movie that definitely pays off if you stick with it.
Jesse Ortega
Super Reviewer
Rams (Hrútar) Quotes
There are no approved quotes yet for this movie.