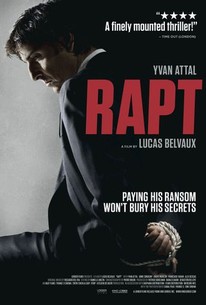 Rapt
2009, Drama, 2h 5m
35 Reviews
500+ Ratings
Rate And Review
Movie Info
Philandering industrialist Stanislas Graff (Yvan Attal) is kidnapped, with his ransom set at 50 million euros. After his finger is chopped off to prove the abductors' seriousness, his wife, Francoise (Anne Consigny), meets with the board of directors to discuss how to raise the money quickly -- but evidence of Stanislas' adultery and gambling make the company reluctant to pay. As rumors spread that Stanislas staged the kidnapping to take care of his debts, public sentiment turns against him.
News & Interviews for Rapt
Audience Reviews for Rapt
In "Rapt," Stanislas Graff(Yvan Attal) is an industrialist who dines with politicians before rushing off to spend some quality time with his mistress. Despite his busy schedule, he tries to also spend as much time with his family as he can before moving on to a high stakes poker game where he loses 50,000 euros. The high speend of his life might have explained his driver not seeing the cyclist, except for the fact that it is all a set-up for an abduction carried out with military precision. What the kidnappers want is 50 million and cut off one of his fingers to say they mean business. The bad news is the most Stanislas' family and associates can come up with is 20 million. To its credit, "Rapt" has some timely quotes about late model capitalism and takes little time to establish its plot, keeping things moving throughout, even as it is not quite as adept at keeping track of time. So while this procedural where everybody has their own interests to look after including the cops is methodical to the hilt, it can be too much so, leading it to be on the cold and calculating side of the equation, robbing the movie of much needed tension and suspense, except in a couple of key spots. But the idea of somebody not being in total control for once and in danger of letting his life spiral out of control is a good one, even if his secrets don't run any deeper than adultery and gambling. The main lessons here are to never believe everything you read in the tabloids and to always know who your true friends are.

A wealthy businessman is kidnapped, his finger cut off, but when his private life becomes public, the kidnapping is the least of his problems. Yvan Attal, so brilliant in the romantic comedy My Wife Is an Actress, delivers a tour de force performance in this gritty thriller. As Stansilas Graff, Attal is at turns desperate, despairing, and valorous, revolting against the cards life has dealt him. The film becomes a morality tale. Too often kidnapping films become procedurals, but this film makes us wonder if the character isn't better off in captivity. As a result of Graff's affairs, gambling habits, and loose business practices, when his life is threatened, those closest to him wonder if he's worth saving, which is a question that almost no other kidnapping film asks. I didn't like the ending because there was still much that wasn't resolved. It's a problem of the film's focus: too much attention is paid to the demonization of the kidnappers that we need to see something else happen with this conflict by the end of the film even though the film tries to distract our attention from these characters. Overall, Attal must be one of France's premiere actors because I haven't seen anything but good work from him.

I'd say this is a really good movie, it's well made and well acted. It definitely feels different that your typical 'kidnap' movie, but there's something completely unengaging about the movie, it didn't particularly interest me past the basic plot. I don't know what it was but, while it didn't feel like a chore, I can't find any real reason to recommend this movie because it didn't really stand out in any way. This is a shame because France has, typically, great thrillers. This is not one of them, still good however.

I actually found this movie interesting, but I took a 1/2 star away for the ending. I don't care for unclear endings, and this movie most definitely has one of those. However, the rest of the movie (even though more than 2hrs long) makes up for it. The acting is excellent, and the story line intriguing...in spite of the unlikeable main character.
See Details