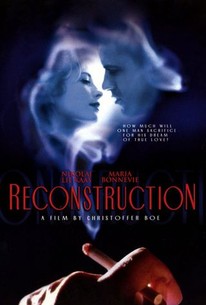 Reconstruction
2003, Drama, 1h 31m
38 Reviews
5,000+ Ratings
Rate And Review
Movie Info
A photographer named Alex (Nikolaj Lie Kaas) leaves his girlfriend one night to pursue an alluring stranger. Soon Alex and the stranger, Aimee (Maria Bonnevie), begin a turbulent love affair. When Alex attempts to return to his old life, he finds it has literally vanished. His former girlfriend no longer recognizes him, and his apartment doesn't exist. When Alex realizes he is part of a literary fantasy beyond his control, he has no choice but to discard his past life and embrace the future.
Audience Reviews for Reconstruction
For a movie I knew nothing about and had no interest in seeing, this was fantastic! This was quite an unusual film, I didn't really "get" it until 10 minutes to the end, but I guess the clue was in the title all along! What seemed to be a simple story about a couple who meet and experience "love at first sight", though one is married, and one has a partner already, soon takes a surreal twist, and I honestly didn't know what was going on for a while there. I loved the filming and the "arty" way this was put together, cast were great. One of the best foreign films I have seen in some time.

Wow! Incredible. Surreal. Bizarre. Bewildering. Terrifying. Enigmatic. Exquisite. Beautiful. Mysterious. Sensual. Romantic. Sad. Someone else will have to explain what it all means. This viewer was entranced, but completely unable to explain it. Puts one in mind of "Sliding Doors", crossed with "Stranger Than Fiction" and a little dash of "Memento" thrown in for good measure. An author, August (Krister Henriksson), takes his wife to a promotional book tour event. While in this other city, she does, or does not, have a brief affair with a young photographer, Alex (Nikolaj Lie Kaas). The photographer's life is turned inside out and everything he thought he knew has come unraveled. Is this what really happened, or is this the material for the author's next book? Nothing is explained and the retelling is non-linear, adding to the difficulty in sorting it all out. An incredible piece of film making. Excellent casting with Maria Bonnevie pulling double duty as Simone, the photographer's girlfriend, and the author's wife, Aimee. Masterful direction, artistic camera work, solid editing and a beautifully haunting, minimalist score. The result is simply mesmerizing. Just don't expect to be able to wrap your head around it on a single viewing. One feels one will arrive at a different conclusion each time one watches it. It's that good.

Fragrant stimulation.A top notch film of 2004,a great film production,a charming gem of reflecting views and the magic of cinema inside out.Where the truth lies,the darkness' consequence dies.

Rather decent off-kilter relationship drama. Nikolaj Lie Kaas plays a young man who thought himself to already be in a relationship unexpectedly finds himself in a literary affair. His reality is distorted soemwhat, to what degree we learn with him, as friends and even family seem to treat him as a stranger. The film evidently takes a few cues from David Lynch, in its familiar-yet-not reality check, and the music and performances are highly worthwhile. I was particularly taken with the picture's approach of sensual obsession having more of an emotional impact than common rationality, making for an intoxicating experience.
See Details