Red Hollywood
(2014)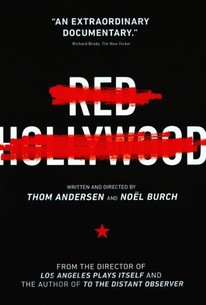 Movie Info
Film essayist Thom Andersen (Los Angeles Plays Itself) collaborated with film historian/theoretician Noël Burch on Red Hollywood, a documentary adaptation of their essay "Les Communistes de Hollywood." Andersen and Burch examine the work of the "Hollywood Ten," and other filmmakers and artists impacted by the infamous House Committee on Un-American Activities. While the Hollywood Ten were derided by no less than Billy Wilder as untalented, Andersen and Burch are more concerned with whether or not expressions of their progressive political beliefs can actually be found in the films they made. A fascinating wealth of clips from films like Marked Woman, Intruder in the Dust, He Ran All the Way, and Smash-Up are analyzed for the (sometimes admittedly naïve) way they address such issues of class conflict, racial injustice, and gender inequality. Andersen and Burch also deliver a cursory history of the blacklist and its aftereffects, and include later interviews with filmmakers Abraham Polonsky (Force of Evil), Alfred Levitt (The Boy With Green Hair), and Paul Jarrico (Tom, Dick and Harry). ~ Josh Ralske, Rovi
Critic Reviews for Red Hollywood
Audience Reviews for Red Hollywood
½
As an informative documentary about the Hollywood Blacklist, "Red Hollywood" is less interested in the martyrdom of those involved than it is in exploring the question of the work involved and any progressive issues raised in those movies. It also makes a great case for worshiping Susan Hayward, by the way. But to me the most interesting thing about this cine-essay is not what it imparts directly, but the movies it references and how obscure they are, especially for Hollywood movies. I mean, yes, "Women of the Year" and "On the Waterfront" are mentioned here. But I did not see "Try and Get Me" until last year and the only reason I knew about the semi-clasic "Salt of the Earth" was because it was written about in 'Alternate Oscars' by Danny Peary who contrasted it with "On the Waterfront," released the same year. On the other hand, I have seen the minor red-baiting John Wayne movie "Big Jim McLain" which leads off "Red Hollywood."
Red Hollywood Quotes
There are no approved quotes yet for this movie.