The Reeds
(2010)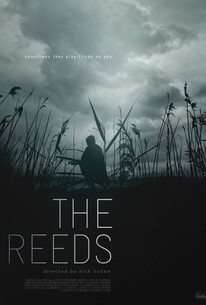 AUDIENCE SCORE
Critic Consensus: No consensus yet.
Movie Info
A group of vacationing twenty-somethings are terrorized by a mysterious predator during a weekend boating excursion into the Norfolk Broads. Lost in the endless miles of winding waterways, the few remaining survivors must fight for their lives while attempting to find their way back to civilization. Nick Cohen and Christopher Baker team up to direct a rural horror shocker released as part of the fourth annual AfterDark Horrorfest. ~ Jason Buchanan, Rovi
Critic Reviews for The Reeds
Audience Reviews for The Reeds
½
Odd movie, full of alternate reality situations all over the place. Never a good way to go, in my opinion.
Cynthia S.
Super Reviewer
Poorly executed. The storyline itself was a little shaky. It wasn't clear. It was a confusing idea that just didn't work. There was a twist at the end which didn't make sense, then there was another twist at the very, very end which also made no sense. All the questions in the movie the audience was most likely asking themselves were never answered which leaves the viewers unsatisfied. It was just really bad. The script was bad too. The characters were undeveloped...I can't even recall any of their names. So yeah, terrible movie.
½
7.1/10 I didn't expect to have as much fun as I ended up having with "The Reeds". It's a horror film with an interesting premise, as well as plenty of somewhat overused ideas on the side, so I couldn't say I expected much. An intriguing premise is always good, but too often to movies - horror movies especially - waste all potential and go completely berserk when it comes to the clichés and all things ever-so-familiar. To be completely honest, I can't tell you - even for a second - that this film is anything special, but it was affectionate for its genre, and it was well-made from beginning to end. You might indeed have trouble finding many better horror features from its year. I quite liked it. The setting is simple, but in a good way. The entirety of this film takes place in a marsh area, where the reeds are high and the waterways are plentiful. As with all movies like this one, there must be initially ignorant characters that get stuck in these parts and try to find the way back home; only to encounter inexplicable horrors lurking all around them while they're at it. In this case, the characters are a cast of men and women presumably in their twenties; and the horror that surrounds them does indeed lurk in the tall, tall reeds. Before I go any further, maybe I should explain the situation with more depth. The group rents a boat upon arriving to the marsh. They encounter some ominous, creepy, seemingly desolate teenagers who give us a sense of immediate danger. After some pleasant boating, the vessel gets stuck and a member of the crew is badly injured, as a shark, metal object has him through the torso. If that wasn't enough trouble as it is, here comes the horror; the villain. The characters think they are "seeing things" in the reeds, and outside the windows of the boat. Through "POV tracking shots" and the like, it would appear that something is stalking them, ready to pounce. But who, or what, is it? Is it a monster? Is it the man who runs the boat rental place? Is it the kids? Who knows? It's all revealed in the end, which has been discussed and criticized by most that have seen the film for its muddled twist, but I found it to be alright. I've seen worse. The first flaw that you might notice is the lack of depth, in both the story and the characters. The people in this film aren't necessarily some of the most boring I've come across in my several years of movie-watching, but if I could do something that this film does somewhat poorly in a better way, it would be giving these characters some personality. But if you can put that stuff, and the half-decent ending, aside; then there's some real talent to be found here. The film was entertaining all the way through for me. I appreciated it, admired it, and really enjoyed myself. There wasn't a dull moment to spare; the beautiful cinematography made sure of this. The marsh areas are beautifully photographed and the horror is well-staged overall. "The Reeds" takes the old and re-creates it as something genuinely new, fun, and scary. So you don't have a classic on your hands here. Great. That doesn't bother me. All I ask out of a horror film is that it gives me a good time and some stuff to think about. "The Reeds" is intense and well-directed enough to make me want to support it; and I shall. There are few horror films from its year that can rival it in both tension and scare-factor. I recommend it to fans of the genre - real fans of the genre - since I feel that they will be more...forgiving, than most audiences. Otherwise, I don't know; this isn't exactly a masterpiece or anything, so if you want a great horror flick, look elsewhere. But I had a good time watching "The Reeds", and that was good enough for me. This is pure escapist entertainment with a twist; it's actually pretty well-done. Just try to have fun with it, and who knows; it might work for you as it did for me.
Ryan Marshall
Super Reviewer
The Reeds Quotes
There are no approved quotes yet for this movie.