The Reptile
(1966)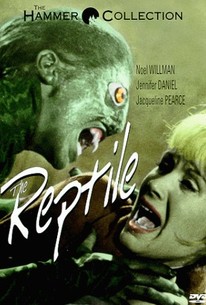 Movie Info
In this Hammer horror movie, Cornish villagers become hysterical when people begin suddenly turning black and dying. When a man and his wife come to town to look into the mysterious death of his brother, they are shunned and avoided. He then discovers that his brother died of snakebite and that one woman is the incarnation of an ancient Malayan curse that turns her into a viper when she is near heat. The man is bitten by her, and to save him, his brave wife starts an enormous fire that turns the snake-woman into a complete snake that slithers off to attack her own father before allowing herself to be consumed in the flames. Fortunately, the man and his wife survive the ordeal.
Critic Reviews for The Reptile
Audience Reviews for The Reptile
½
This is what happens when you move to Cornwall. A couple move into a cottage left to them by the man's deceased brother. But when they arrive they find that mysterious deaths plague the quiet countryside. This film was fantastic fun, and looked stunning on Blu-ray. There are a series of interesting characters, especially the Dr. Franklyn, who is very abrasive and cold, but all for good reason. You get a real sense, thanks to Willman's performance, that there is a kind and considerate man trying to get out. The make-up is amazing and the monster is very unsettling to look at. I believe this may be my first real Hammer film that I've seen and I can't wait to watch some more. Chilling, fun, and also a bit camp around the edges.
Luke Baldock
Super Reviewer
½
Made back to back with 'Plague of the Zombies' this uses many of the same sets and a couple of the actors. Like Zombies both Lee and Cushing are sadly missing from this Hammer film but there isn't really a decent part for them to get their teeth into. The monster is only really seen in short bursts but the repurcussions of her bite are some nasty looking corpses. It'd good to see Ripper getting a decent amount of time in the limelight and most of the acting here is pretty solid. Laurie steals the honours as Mad Peter but is killed off too quickly. The make-up for Pearce is pretty good but she isn't as effective here as she is in Zombies. The one thing that struck me was that the film was nowhere near horrific enough and I found myself getting a little bored.
David Sayers
Super Reviewer
more strange goings on in the cornish countryside. the reptile builds good suspense with plenty of spooky atmosphere but the creature itself is a bit of a letdown. cheers to hammer for featuring a female monster tho :)
Stella Dallas
Super Reviewer
The Reptile Quotes
There are no approved quotes yet for this movie.