Revelation
(1999)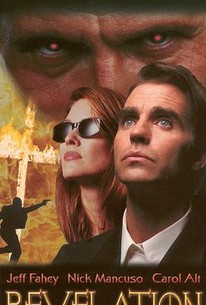 AUDIENCE SCORE
Critic Consensus: No consensus yet.
Movie Info
A law enforcement officer must decide if he follows the law of man or the law of God in this Christian-themed thriller. Thorold Stone (Jeff Fahey) is an high-level agent with One Nation Earth (or O.N.E.), the global law enforcement group founded by self-proclaimed messiah and international despot Franco Macalousso (Nick Mancuso). Stone has been out of sorts and unable to focus on his work ever since his wife and children disappeared along with millions of others not long ago -- an event some believe to have been the Rapture. One day, Stone is sent out to investigate a school bus accident believed to have been caused by "The Haters," an underground Christian group led by Helen Hannah (Leigh Lewis). But as Stone looks into the facts of the matter, he learns that O.N.E. agents were behind the sabotage, and thinks he may have found evidence to back up his suspicions in the form of a computer disc he's found at a secret O.N.E. post. Stone turns to eccentric computer genius Willie Spino (Tony Nappo) to decode the disc's contents. Len Parker (David Roddis), Macalousso's second in command, has discovered that Stone has the missing computer disc and is determined to silence him before he can find out what it contains, with the leader's "Day of Wonders" looming over the horizon. Revelation (also released as Apocalypse II: Revelation) also features Carol Alt and Bruce McFee.
Critic Reviews for Revelation
There are no critic reviews yet for Revelation. Keep checking Rotten Tomatoes for updates!
Audience Reviews for Revelation
Jeff Fahey is a badass skeptic, but deep in his creamy center he finds the faith necessary to make the right choice...to star in a Jack Van Impe movie.
Brett Warren
Super Reviewer
Revelation Quotes
There are no approved quotes yet for this movie.