Rhapsody in August
(1991)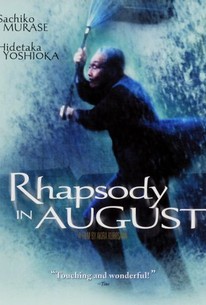 Movie Info
Master filmmaker Akira Kurosawa follows up on his phantasmorgic Dreams with this delicate tale about war and memory. The film centers on Kane (Sachiko Murase) a grandmother who lives on her traditional farm in the hills near Nagasaki. Her husband and a number of siblings died in the 1945 atomic bombing of the city and memories of that event are never far from her mind. She learns that her elder brother, who went to Hawaii to seek his fortune in pineapples, is on his deathbed and would very much like to see his sister one last time. Her half-American nephew Clark (played by none other than Richard Gere) is venturing to Nagasaki to escort her to Hawaii. Though the prospect of meeting a real live American excites Kane's four grandchildren who are staying with her for the summer and who often sport American college T-shirts, Kane remains ambivalent both about the prospects of going to the States, and about the dark memories Clark's presence dredges up.
Critic Reviews for Rhapsody in August
Audience Reviews for Rhapsody in August
A fine little film by Kurosawa. Plain but evocative. I like late-stage Kurosawa.
Kyle Meisch
Super Reviewer
Well,it isn't the worst Kurosawa,that's a gravity point.It's pathetic nonetheless.Piety and respect to the fruitful generation in spite of the elders' guidance and alternatively,the cycle continues by giving props to the what occurred in a critical epoch of a land e.g. the nuclear bombings of Hiroshima/Nagasaki.Props as in mournful homage.All's well that end's well but what's the utter point for all this?Just for Gere commercial?
Dimitris Springer
Super Reviewer
½
Not one of Kurosawa's best, bust visually stunning.
Anthony Valletta
Super Reviewer
Rhapsody in August Quotes
There are no approved quotes yet for this movie.