Rhapsody in August
(1991)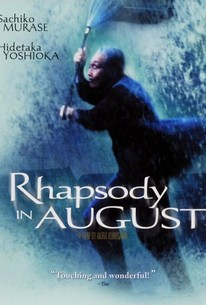 Movie Info
Four Japanese teens get the rare opportunity to view the atomic bombing of Nagasaki from two perspectives in this quiet film from Akira Kurosawa. Their journey into the past begins when their parents leave them with their grandmother in Nagasaki while they fly to Hawaii to visit their ailing uncle. Grandmother Kane proves to be as traditional as the youths are modern. The kids, try to convince Kane to go to Hawaii to say good bye to her sick brother, but she refuses. They are fascinated by the bombing and visit the many memorials and the bomb site often. Kane tells them stories about the terrible August day when her husband was incinerated and her life forever changed. Later the grandmother and her charges learn that her Japanese-American nephew (played by a Japanese speaking Richard Gere) is planning to pay them a visit. This creates turmoil and considerable excitement for the grandmother and her charges. They do not know how to treat him or what to think for his mother was a white woman and therefore one of those responsible for the bomb. But things are quickly smoothed out. The visiting nephew is polite, relaxed and apologetic for his forebears actions. As the family members converse and visit the sites together, a slow healing of painful wounds occurs. In this way, director Kurosawa earnestly urges his audience towards notions of reconciliation. It is as if he blames the war itself, not the people involved in the terrible event.
Critic Reviews for Rhapsody in August
Audience Reviews for Rhapsody in August
A fine little film by Kurosawa. Plain but evocative. I like late-stage Kurosawa.
Kyle Meisch
Super Reviewer
Well,it isn't the worst Kurosawa,that's a gravity point.It's pathetic nonetheless.Piety and respect to the fruitful generation in spite of the elders' guidance and alternatively,the cycle continues by giving props to the what occurred in a critical epoch of a land e.g. the nuclear bombings of Hiroshima/Nagasaki.Props as in mournful homage.All's well that end's well but what's the utter point for all this?Just for Gere commercial?
Dimitris Springer
Super Reviewer
½
Not one of Kurosawa's best, bust visually stunning.
Anthony Valletta
Super Reviewer
Rhapsody in August Quotes
There are no approved quotes yet for this movie.