Rize
(2005)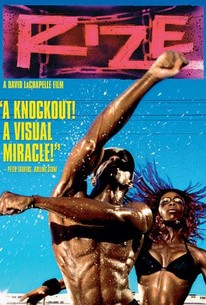 Movie Info
Taking advantage of unprecedented access, this documentary film brings to first light a revolutionary form of artistic expression borne from oppression. The aggressive and visually stunning dance modernizes moves indigenous to African tribal rituals and features mind-blowing, athletic movement sped up to impossible speeds. "Rize" tracks the fascinating evolution of the dance: we meet Tommy Johnson (Tommy the Clown), who first created the style as a response to the 1992 Rodney King riots and named it "Clowning," as well as the kids who developed the movement into what they now call Krumping. The kids use dance as an alternative to gangs and hustling: they form their own troupes and paint their faces like warriors, meeting to outperform rival gangs of dancers or just to hone their skills. For the dancers, Krumping becomes a way of life -- and, because it's authentic expression (in complete opposition to the bling-bling, Hip-Hop culture), the dance becomes a vital part of who they are.
News & Interviews for Rize
Audience Reviews for Rize
A dull little documentary about dance. Compared to the incomparable Pina, Rize is bush league.
John Ballantine
Super Reviewer
Having lived in Los Angeles for the last decade, I was here when Krumping was a big thing amongst the inner city youth. I didn't live in the same neighborhoods, but I went to school in South Central for a couple of years. So I got to witness the dance first hand. When I first saw it, I laughed at it. To me it looked like nothing more than controlled flailing. Just swinging your arms around with balled fists, rolling your body like a stripper, jumping around, fake fighting and not much more. After seeing this documentary (which got snubbed for at least a nomination for Best Documentary), I realize that it is so much more than that. To the kids that are in that world, it is everything to them. It keeps them out of trouble, it gives them something to do besides play sports. I really have to commend Tommy the Clown for what he did. I've seen him at a party once, but I wasn't too familiar with his movement back then. What he has done is bring hope to kids that had almost none. Without his guidance, a lot of the kids in this film would be in gangs, in jail, doing nothing productive at all, or possibly dead. That alone makes this a film that everyone should see. I wanted to give it a higher score, but I still have trouble taking Krumping, as a form of dance, seriously. Still, this is an excellent film.
Ryan Rutherford
Super Reviewer
½
It was interesting to watch the krumping I guess, and it's great that it's keeping kids out of gangs, but I didn't find the film that compelling. At the end after the dance battle, it's kind of like they're rival gangs anyway...
Sarah Prisbylla
Super Reviewer
Rize Quotes
There are no approved quotes yet for this movie.