Robo Vampire
(1987)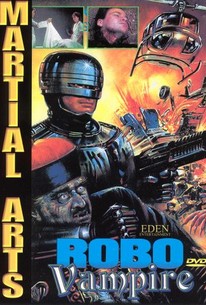 AUDIENCE SCORE
Critic Consensus: No consensus yet.
Movie Info
Killed in the line of duty while on a mission to stop a drug-trafficking warlord, narcotics agent Tom Wilde gets a new lease on life (literally!) after an experimental operation reanimates his body. Wilde is transformed into Robo Warrior, a robot-human hybrid with a penchant for battling vampires. Now, he must enter the Golden Triangle to rescue Sophie, a colleague held hostage by the evil warlord. Will he make it to her in time?
Critic Reviews for Robo Vampire
There are no critic reviews yet for Robo Vampire. Keep checking Rotten Tomatoes for updates!
Audience Reviews for Robo Vampire
Throughout the 1980's there were a constant trend of low budget schlock fests that never quite made its way into the mainstream. Instead, these movies would play in Drive in theatres and be released straight to video. Robo Vampire is such a film, a movie that is pure 80's cheese, yet it's quite entertaining and is lots of fun for viewers looking for low grade entertainment. The film has some mediocre performances and bad overdubbing, but somehow, I did enjoy the film. For what it was, it's an entertaining film, one that has "cult movie" written all over it. The film succeeds at doing just that, and it works very well in terms of an action, horror exploitation picture. I find these films quite enjoyable because it uses the weirdest types of ideas, and the filmmakers due to obvious budget constraints manage to make something quite entertaining with its concept. Other films of this caliber would be Nail gun Massacre and The Video Dead, and Robo Vampire continues that trash entertainment vibe that these films provided. I said they were trash, but I mean that in a good way. The film is an engaging and fun midnight movie, well worth seeing if you enjoy low budget cheesy picture that have limited production value. Robo Vampire is worth seeing if you're into B movies, but it's not a movie that has stood out either. For what it is, it's a well constructed low budget film that doesn't try to take itself too seriously and is able to pull off something horrifying, humorous and action oriented all at once. Robo Vampire succeeds at combining various genres into one film, and it might appeal to various fans of low budget cinema.
½
Destined to become a classic of bad films. This bizarre mixture of sci fi. cop and hopping vampire film make this a film that, if you are a bad movie aficionado like myself, you'll find yourself returning to again and again. Seriously, it's insane. Do yourself a favour and just type Robo Vampire into youtube and that should be all the convincing you need to purchase this one of a kind piece o' crap.
Christopher Brown
Super Reviewer
Robo Vampire Quotes
There are no approved quotes yet for this movie.