Roman Polanski: Wanted and Desired
(2008)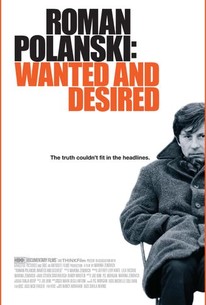 Roman Polanski: Wanted and Desired Photos
Movie Info
Reopening a case that has inspired curiosity, controversy, and confusion for over three decades, Zenovich's film is an extensive exploration of the circumstances that led up to--and the circus that followed--Polanski's conviction for having unlawful sexual intercourse with a minor. Zenovich had unprecedented access to several of the key players in the case, including the lawyers representing the case, the media covering it, and the unusually clear-eyed and candid victim. Unearthing a trove of telling footage from the past, and combining it with insightful interviews from today, she brings comprehension and clarity to events long clouded by myth and misconception. A thrilling examination of a trial that became the prototype for innumerable Hollywood courtroom scandals to follow, the film becomes a brilliant discourse on the attraction/repulsion that defines celebrity culture in contemporary America.
News & Interviews for Roman Polanski: Wanted and Desired
Critic Reviews for Roman Polanski: Wanted and Desired
Audience Reviews for Roman Polanski: Wanted and Desired
½
A mediocre doc designed mainly for Polanski. It goes on to depict how Polanski couldn't get a fair trial that he deserved more than any other human due to a judge craving for media popularity.
familiar stranger
Super Reviewer
"The truth couldn't fit in the headlines." Marina Zenovich's new documentary examines the public scandal and private tragedy which led to legendary director Roman Polanski's sudden flight from the United States.
REVIEW
Film director Roman Polanski is (still) "wanted" by US authorities and "desired" (and respected) in France. This smart, exceptionally well made documentary explains why. When his wife was murdered by Charles Manson, some elements of the press accused Polanski of the crime. The media attention was ugly and enough to make the Polish survivor of German death camps leave the country. He didn't leave. He stayed to make classics like "Chinatown". Several years later, the director had sex with a thirteen-year-old girl. The legal conflagration this created is the center of this documentary. Polanski admitted to the sex act, but he did not plead guilty to the commission of a crime. After being sentenced to a ninety day period of psychological assessment, he was released early. The media outrage at this "reduction" of his sentence forced the sentencing judge to rethink a deal he'd struck with both the defense and prosecution. Meanwhile, having lost all faith in a system corrupted by personal ego and inappropriate grandstanding, Polanski fled to France where he has avoided extradition back to the US ever since. This move put an end to his Hollywood career, but it did not put an end to his film-making. Polanski himself is not interviewed specifically for this film, but he does appear on screen in an interview with UK talkshow maven Clive James. A solid piece of journalism.
Lorenzo von Matterhorn
Super Reviewer
½
A wonderful look at corruption and justice, even if it's justice we don't agree with. Putting Polanski's crimes to one side, there is no denying he is an exceptional filmmaker. He is able to address a darkness many hope never to experience. It's very easy to see Polanski as a coward that ran from sentencing, but we also have a fascinating story of a judge hungry for fame. That cares more about peoples opinion of him, than he does keeping his word. It's a fascinating battle where everyone appears to be in the wrong, and the two lawyers seem to be the most honest of the bunch. It's a great watch, just for all of the different reactions it can evoke, with Polanski's troubled and harrowing life as a backdrop for greater tragedies to come.
Luke Baldock
Super Reviewer
Roman Polanski: Wanted and Desired Quotes
There are no approved quotes yet for this movie.