Romance of Astrea and Celadon
(2008)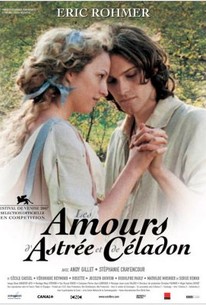 Romance of Astrea and Celadon Photos
Movie Info
Acclaimed French filmmaker Eric Rohmer adapts author Honoré d'Urfé's classic 17th century novel to craft this morally complex tale of romance concerning a young couple about to be betrothed, but driven apart by a tragic misunderstanding. Celadon (Andy Gillet) and Astrea (Stéphanie Crayencour) are deeply in love. Each has vowed that they want to spend the rest of their lives together, but their future union is suddenly thrown into question when one day on the riverbank Astrea sees Celadon kissing another woman. Subsequently banning Celadon from her sight forever, the inconsolable Astrea is horrified to discover that Celadon has attempted to take his own life by leaping into the river after learning of the decree; fortunately, he was saved at the last minute by an upper-crust young woman (Véronique Reymond) who wants to possess him. Desperate to win Astrea back, Celadon accepts the advice of a druid priest and his niece, who convince him to dress in drag, pose as a woman, and strike up a friendship with Astrea. Before long, the two are kissing, holding hands, and napping together -- with Astrea little recognizing her new "best friend"'s real gender or identity.
Critic Reviews for Romance of Astrea and Celadon
Audience Reviews for Romance of Astrea and Celadon
½
bountiful bucolic beauty; one finds it hard to believe this movie came from rohmer, one of france's best directors, when it feels like a dream(y) highschool r&j-esque play...
Aaron Chuah
Pretty silly stuff, Rohmer adapts a 17th century story set in a mythical 5th century with druids and nymphs and shepherds. The dialogue, acting, and narration give it a kind of theatrical and literary feel, but in a tongue in cheek manner. The male protagonist even pronounces that he will "drown himself at once" upon being spurned by his jealous lover, and does so. Of course no Rohmer film would be complete without plenty of talk about love and related subjects. This is more humorous and erotic than the other Rohmers I've seen, but it lacks the depth of character and emotional poignancy of his better films.
X. T. C.
½
Rohmer has made great films so I was pretty excited to see this one. Celadon & Astrae is an odd film and I don't think it's a great film, but I don't think it's a bad one. Adapting seventeenth-century pastoral tales to the screen may be a far-fetched enterprise at best, but there must be better methods than this. Paradoxically, though the pastoral ideal is about purity and simplicity, recapturing it is likely to require more elaborate methods than this. Rohmer's bare-bones methods worked well for most of his career because the people and their conversations were interesting enough in themselves; the intensity of his own interest made them so. Such methods don't work so well here. The talk in 'The Romance of Astrea and Celadon' is too stilted and dry most of the way to hold much interest. For dyed-in-the-wool Rohmer fans, of course, this mature work is nonetheless required viewing. Newcomers as usual had best go back to 'My Night at Maude's' and 'Claire's Knee' to understand the perennial interest of this quintessentially French filmmaker.
Barbara H.
Romance of Astrea and Celadon Quotes
There are no approved quotes yet for this movie.
Discussion Forum
Discuss Romance of Astrea and Celadon on our Movie forum!