Romántico
(2006)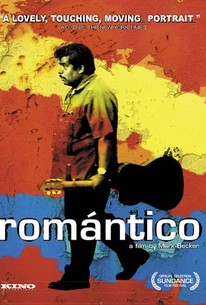 Movie Info
A Mexican troubadour struggling to make a living in San Francisco's mission district travels back across the border to visit his dying mother in filmmaker Mark Becker's unflinching portrait of illegal immigrant Carmelo Sánchez. By day Sánchez washes cars, and by night he moves from restaurant to restaurant playing romantic ballads for tips. But Sánchez isn't alone in America, his best friend Arturo is always by his side. When Sanchez's mother falls ill and he returns to Mexico to be by her side, Arturo follows along as viewers are offered a deeply personal look at the life of a kindhearted and hardworking man who is simply doing his best to provide for his impoverished family.
News & Interviews for Romántico
Critic Reviews for Romántico
Audience Reviews for Romántico
½
[font=Century Gothic]"Romantico" is a documentary about Carmelo Muniz Sanchez, a 57-year old man, who works as a mariachi with his friend, Arturo, in San Francisco. To make ends meet, they also work in a car wash. Illegally in the United States for the past three years, Carmelo sends money back to his family in Mexico. But he is homesick, and wants to return when he hears that his elderly mother's health is declining.[/font] [font=Century Gothic][/font] [font=Century Gothic]"Romantico" is a sober counterpoint to the hysterical hyperventilating of the anti-immigration movement that has been shameless enough to bring terrorism up in the debate. In a poignant manner, the film puts a sympathetic face to illegal immigration, detailing Carmelo's life on both sides of the border(allowing he and his friends and family to tell their story without any commentary), thus giving very good reasons why a person would emigrate. Ironically, Carmelo is much more able to support his family far away from home. For example, he can earn $100 in a night here in the states while much less in his home country. [/font]
Romántico Quotes
There are no approved quotes yet for this movie.