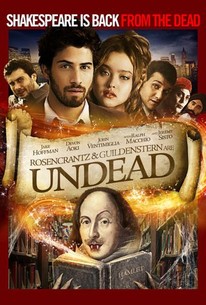 Rosencrantz and Guildenstern Are Undead
2009, Comedy, 1h 25m
15 Reviews
2,500+ Ratings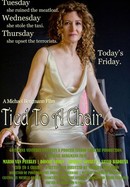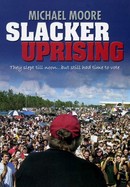 Captain Mike Across America
Rate And Review
Rosencrantz and Guildenstern Are Undead Photos
Movie Info
A womanizing slacker (Jake Hoffman) takes a job directing a weird spin-off of "Hamlet" written by and starring a vampire.
Audience Reviews for Rosencrantz and Guildenstern Are Undead
A vampire hires a low-rent director to direct a version of Hamlet involving vampires and the Holy Grail. Aside from being frightfully dull, uneven, and genuinely unfunny, this film suffers from the construction of the main character, played by Jake Hoffman, who is so disaffected that it is almost impossible to sympathize with him. And the love story is poorly developed; what the connection between these two is or how they resolve their conflicts remains a mystery. The story attempts to be a satire - I think - of off-off-Broadway, avant garde theater. The film contends that anything will fly in these venues, and that's true to some degree, but there's nothing funny about this thesis, and it's not presented in an original way. Shadow of the Vampire was far scarier and clearer in its barbs. Overall, this film is a boring, unfunny chore to watch.

Pretty entertaining, though kinda weird and confusing at times. Sometimes the humor works, sometimes it doesn't, however. To be fair, when it works, it can be really funny, and even when it doesn't work, it's not too bad (I've seen films fail far worse in this department). Jake Hoffman is pretty good in the lead role, but Devon Aoki really steals the spotlight. On a side note, though his character is kinda weird in the beginning, Ralph Macchio did a great job overall is his supporting role. I like the ending sequence of the film, but unfortunately, the middle section kinda feels rushed...I really wish more time was spent on the play, and more to the point, on developing some of the characters. While the two main characters are pretty well fleshed out, there's a ton of other characters in this film (a good amount of whom are really important to the storyline) that aren't fleshed out enough in my opinion. Still entertaining though.

A hilarious premise is totally squandered in this self-consciously quirky comedy about a theater director who is hired to direct a production of "Hamlet" by a centuries old vampire who is actually the original Horatio, and is on a quest to find and destroy the original Hamlet, who has been curing vampires of their affliction for hundreds of years with the Holy Grail. Hampered by a painfully unfunny script, lackluster performances, and amateur level direction, "Rosencrantz & Guildenstern Are Undead" is one of the worst films of the year.
See Details