Rounding First
(2005)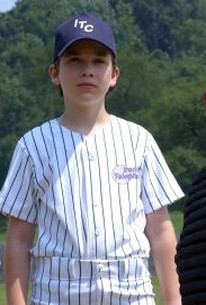 AUDIENCE SCORE
Critic Consensus: No consensus yet.
Movie Info
Three 12-year-old boys grow up a bit faster than they expected when an adventure takes an unforseen turn in this bittersweet comedy. Joe (Soren Fulton), Tiger (Matthew Borish), and Chris (Sam Semenza) are best friends growing up together in Allentown, PA. The three boys look to one another for support as they struggle with their personal issues -- Joe's big brother is in Europe, Tiger's dad is a cop who has developed a drinking problem, and Chris is a target for bullies since he's overweight. When Joe reads some open mail in his house that leads him to suspect his parents haven't been honest with him about a trip they're planning while he's away at baseball camp, he and his friends hit the road for Philadelphia to find out the truth. While Joe, Tiger, and Chris try at first to make the 60-mile trip on their bikes, the fates have other plans, and they soon turn to hitchhiking. The boys are picked up by a grubby guy named Rascal (Michael Dean), who en route sticks up a convenience store, and the three runaways aren't sure if they're hostages or accomplices as the police begin looking for them and Rascal at the same time. Rounding First was the first feature film from writer and director Jim Fleigner.
Critic Reviews for Rounding First
There are no critic reviews yet for Rounding First. Keep checking Rotten Tomatoes for updates!
Audience Reviews for Rounding First
I am the biggest baseball fan on the planet. Baseball movies make up a whole section of my DVD collection, and based on the title and DVD cover of this film, I was led to believe that this was another baseball movie, it's not. What this movie is, is a terrific story, about three boys who break out of sleep away camp, to find out why their parents have been acting so strangely. These boys cross the state to get to the truth and what they find is really unexpected and made for one hell of a story. I really didn't figure out what was going on until the very end and once I did the rating for this film went way up, as it makes the story pure genius! You also wouldn't expect the acting in a movie centered around three kids to be as good as it was, but these boys were terrific. Soren Fulton plays Joe, the twelve year old leader of the group. Even at the rip old age of twenty-one, this kid has been in everything and had a ton of experience coming into this thing, so his strong performance wasn't so unexpected. What did surprise me was just how good Matthew Borish was. Aside from the TV show, Hack, Borish hasn't been in anything before this film, but he really made it exciting, playing the role of Tiger. Tiger is the small kid who always has to act tough and be crazy, not only to get respect, but to cover up how troubled his life is. Borish gives a performance that is both funny and heartbreaking, he did a truly incredible job. Rounding First will make you laugh, boost your curiosity, and give you something to watch that is out of the ordinary. I was disappointed once I figured out that this wasn't a baseball movie, but what I saw may have been even better.
Todd Smith
Super Reviewer
Rounding First Quotes
There are no approved quotes yet for this movie.