The Rugrats Movie
(1998)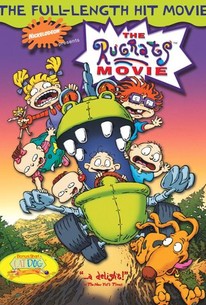 Movie Info
Based on the popular Nickelodeon TV series Rugrats, this is the first full-length feature animated movie to star the little tots. It's the story of diaper-clad kids, told from a baby's point- of-view, and they were one of the hottest-selling toy franchises of the late '90s. The film features a hilarious musical number in the hospital nursery, where newborns have the voices of major rock stars that include Jakob Dylan (Bob Dylan's son), Iggy Pop, Lou Rawls, Lisa Loeb, and Patti Smith, to name a few. The story escalates when self-proclaimed leader Tommy Pickles is thrust into an impossible situation with the birth of his new brother, Dil Pickles. This new kid is grabbing all the attention and won't stop crying. With the help of other toddlers Lil and Phil, Tommy decides that the baby should be returned to the hospital for fixing. They all hop on their little wagon and take a high-speed ride straight into the deep woods where they realize they're lost. Chased around by animals (or so they think), the Rugrats clan must get home in one piece. Other celebrity voices include Whoopi Goldberg and The Rocky Horror Picture Show's Tim Curry, as well as Saturday Night Live's Andrea Martin and David Spade. ~ Chris Gore, Rovi
Critic Reviews for The Rugrats Movie
Audience Reviews for The Rugrats Movie
Tommy Pickles: Yo-ho-ho and a bottle of yum!  "An adventure for anyone who ever wore diapers." When I was a little kid, my favorite cartoon on television was Rugrats. I could watch it all day long. I remember watching this movie when I was little as well. I remember liking it, but I also remember, even as a little kid, thinking it wasn't as good as the tv show. This movie is short, and that's one of its few positives. It's got a quick paced feel to it is as well, so the whole film just speeds by. After it does, you're left with a lot of disappointment, especially if you are a lover of the cartoon. Tommy is excited for the arrival of his new baby brother. When he comes home, everything isn't as great as he thought. The baby cries all the time, and is extremely selfish. When an accident happens leaving the four friends and the new baby on their own in the wilderness with Angelica and Spike on their heels; a search team is put out to find them. The babies battle a wolf and a bunch of monkeys, in order to make it to the lizards house. Most of the writing for this movie centers around the babies mispronunciation of words. It's cute a few time, but the extent to what it is used gets quite annoying. The songs are annoying as well. I guess that's the lasting impression of The Rugrats Movie. It's annoying. I was annoyed by the adventure, by the situations, by just about everything. It's just a big disappointment.  If you want to introduce your kids to one of the best cartoons ever; do it through the television show and not this sorry excuse for a movie. This doesn't come close having the same fun feeling the series had. A lot of that may come from the television adventures only being fifteen minutes each. When you have to fit a plot into a feature length movie of an hour and twenty minutes, it gets a little harder. So, I'll cut them a little slack.
Melvin White
Super Reviewer
An okay film version of an okay kids cartoon. It's nothing special, and it's a lot like the show too. Overall, it's okay.
its no masterpiece but it was pretty good
Michael Edwards
Super Reviewer
The Rugrats Movie Quotes
There are no approved quotes yet for this movie.
Discussion Forum
Discuss The Rugrats Movie on our Movie forum!