Samaritan Girl (Samaria)
(2004)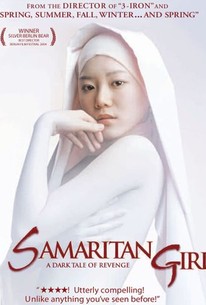 Samaritan Girl (Samaria) Photos
Movie Info
South Korean filmmaker Kim Ki-duk writes, directs, and edits Samaria (Samaritan Girl), an abstract drama told in three parts. In part one, "Vasumitra," best friends Yeo-jin (Gwak Ji-min) and Jae-yeong (Seo Min-jung) work together in a prostitution scam in order to save money for a trip. Jae-young is fatally injured and Yeo-jin carries out her final dying wishes. In part two, "Samaria," Yeo-jin finds all of her friend's old johns, sleeps with them, and returns their money. Then her police officer father, Yeong-gi (Lee Eol), finds out what she's doing. In part three, "Sonata," Yeong-gi attempts to confront his daughter about her actions. Kim Ki-duk won the Silver Bear for Best Director at the Berlin Film Festival in 2004. ~ Andrea LeVasseur, Rovi
Critic Reviews for Samaritan Girl (Samaria)
Audience Reviews for Samaritan Girl (Samaria)
Quite an unusual and interesting storyline, one that starts in a direction and ends up in a completely opposite direction. A very watchable film, but also quite easily forgettable.
Lady D'arbanville
Super Reviewer
½
Ki-duk Kim's movies are magical, Impressive & filled with symbols & metaphors & this one is no exception
½
Kim Ki Duk film's are such mixed bags, they have some very good moments, then some very retarded and stupid moments that almost makes you forget about the good ones. It seems as if the guy can't decide what to do, a "shock" flick, or some spiritual-esque thing about the human condition and growing up and such. He's a bit like Michael Haneke in the way that his stories and characters stop acting like normal humans would do in the same situations and start behaving in a certain way just fo fill the mechanics of the plot. This one is a bit more focused than other films KKD has made, but i still just can't get it into it. Maybe if he wasn't so worried about shocking and using pointless "symbolism" and was rather focused in writing a story the guy could improve. The directs well his actors, and that's mostly why i'm giving the ammount of stars.
Tsubaki Sanjuro
Super Reviewer
Samaritan Girl (Samaria) Quotes
There are no approved quotes yet for this movie.