The Sandlot 2
(2005)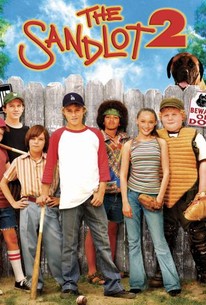 Movie Info
In this sequel to the 1993 box-office hit The Sandlot, it's 1972, and a new bunch of neighborhood kids have taken over the field where they play baseball all summer. Saul (Cole Evan Weiss) is the unofficial leader of the group, who heads up the baseball team and looks after his younger brother, Sammy (Sean Berdy), who can't hear but does play-by-play on the games using sign language. Saul has to face the indignity of letting girls play on his team, but things get even worse when one of them brings her dad's toy rocket to the field. The model accidentally sails over the fence and into the yard of Mr. Mertle (James Earl Jones), owner of the meanest dog in town, leaving the kids with a serious dilemma about getting it back. ~ Mark Deming, Rovi
Critic Reviews for The Sandlot 2
Audience Reviews for The Sandlot 2
Over the years, "The Sandlot" has become outdated (as far as sequels go), but the studio must have seen a silver lining in this script, because it was made, and to put it nicely, it sucks. It is a complete rehash of the original, going beat-for-beat. It just gets more and more annoying as the film progresses. I would almost call this movie a remake if it wasn't for a few minor changes. The direction is sloppy, the same effects are reused, and the script is thinner than most sequels I've seen in recent time. I despised the writer as I was watching this film. I don't know how someone could be so uninspired. "The Sandlot 2" is more than just a bad film, it's an insult to the original. Even though there are a few minor references to old characters, there is nothing to see here.
Jim Careter
Super Reviewer
This movie is probably the worst movie I've ever seen in my life. This movie pretty much tries to re-make the original classic, but they fail miserably. The Sandlot 2 uses pretty much the same characters, except this time they include girls. The girls in this movie cannot play baseball to save their life. They are awful actors, which probably explains why Sandlot 2 was their last movie. The girls use their softball techniques to play baseball, and they claim throughout the movie that "underhand pitches are legal" as if that excuses their lack of skills. Play baseball like a normal person, and stop being weird. Nobody pitches like that. The script and plot were both pretty much the same. It was frustrating. The acting also drove me crazy. I felt like I was in middle school again, watching kids perform skits in class. Acting was so incredibly awful, I couldn't finish watching the movie. This sequel completely failed on all levels. It wasn't entertaining or original. It was just a cheap knock off of the amazing classic that is The Sandlot.
The Sandlot 2 Quotes
There are no approved quotes yet for this movie.