Still Life (Sanxia Haoren)
(2006)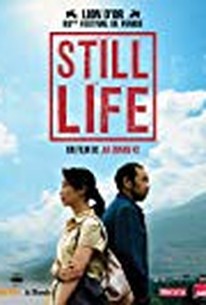 Still Life (Sanxia Haoren) Photos
Movie Info
Jia Zhang Ke's haunting minimalist drama Still Life (aka Sanxia Haoren) takes as its focal point the real-life construction of the Three Gorges Hydro Project and it accompanying massive dam over the Yangtze River in China (allegedly the largest manmade dam in the world) -- a project that required engineers to flood the surrounding territories, including the two millennia-old city of Fengjie. Jia interweaves two stories in connection with the geographical transformation of that area. In the first, Han Sanming (Han Sanming), a miner from northern China, revisits the vicinity after a 16-year absence and attempts to find his wife and his adult daughter -- trying to locate them at addresses that now exist underwater. In the second story, nurse Shen Hong (Zhao Tao) also returns to the site of Fengjie and scours the area for her husband, who has been estranged from her for two years, and who, it seems, has become consumed by the work and lifestyle of an executive. The marriage, it turns out, is irreparable. Meanwhile, as a documentary-style backdrop to these stories, the old structures of Fengjie are continually destroyed -- walls brought to crumbling heaps, towers blown to bits -- and new, makeshift structures installed as replacements. The film thus becomes a sad-eyed meditation on the nature of social change and progress, but it is one that requires the audience to extract these deeper themes and tropes on its own, via inference and deduction. ~ Nathan Southern, Rovi
People Who Like this movie also like
News & Interviews for Still Life (Sanxia Haoren)
Critic Reviews for Still Life (Sanxia Haoren)
Audience Reviews for Still Life (Sanxia Haoren)
Jia Zhangke's STILL LIFE is a prime example of the effectiveness of observational filmmaking and how the weight of the subject alone (and its themes) can not only propel but impact the drama forward. Although it seemingly presents two separate narratives following two different characters traversing a bleak but exquisitely framed developmental atmosphere (small villages directly affected by the Three Gorges Dam project that make for cinematic locations), the film unfolds with care and precision by never forcing dramatic elements and allowing the viewers to learn, feel, and decide as they go; both characters go about their way with a sense of clustered urgency as we learn the ways in which the society has impacted their personal lives, relationships, and families - we know and see just as much as we need to (a credit to a superbly tight script). This is a film that rewards the viewer once the credit rolls - allowing the punch to reveal itself gradually as the grounded, painful, and raw message sinks in. It is, in fact, a devastating realization, and likewise a great film, that is bolstered by Jia's patient approach, unintrusive cinematography and storytelling, and bold commentary on a specific aspect of his country's real-life issues.
Sheldon Chau
Super Reviewer
½
a gorgeous minimalist meditation on the effects of the three gorges dam project on the ancient chinese civilization in the area, focusing on two keenly observed characters searching for lost relatives. quiet moving drama, the best i've seen from jia zhang ke yet
Stella Dallas
Super Reviewer
½
The Three Gorges Damn saga has produced some very interesting fictional and non fictional accounts particularly on the displaced people of China. For great Chinese cinema go elsewhere but this isn't a bad way to pass some time.
John Ballantine
Super Reviewer
Still Life (Sanxia Haoren) Quotes
There are no approved quotes yet for this movie.