Sasame-yuki (Fine Snow)(Hosone yuki)(The Makioka Sisters)
(1983)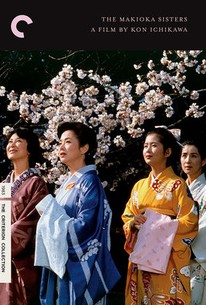 Sasame-yuki (Fine Snow)(Hosone yuki)(The Makioka Sisters) Photos
Movie Info
Heads turn as beautiful women in dazzling kimono glide through a cascade of cherry blossoms against a setting sun. Osaka, 1938, and four daughters of an old merchant family face all unknowing the end of a gentler way of life. Adapted from the classic novel by Junichiro Tanizaki - written as Japan burned around him during the War, even as he determined to preserve forever in his art a world he knew already lost - with director Kon Ichikawa (Burmese Harp, Fires on the Plain, etc., etc.) himself recreating the Golden Age of the Japanese Film, another world gone. A four season chronicle of Jane Austensian, Henry Jamesian, Anton Chekhovian incident, this was the director's dream for a quarter-century, and he brought to it his typically lush pictorialism and insidious black humor. Among the terrific ensemble cast, Keiko Kishi was midway through a six-decade career that included starring for Ozu and Kobayashi (and with Robert Mitchum); while Juzo Itami, multi-awarded as her husband, was about to begin a new one as director of The Funeral, Tampopo, and A Taxing Woman. -- (C) Film Forum
Rating:
NR
Genre:
, ,
Directed By:
In Theaters:
On DVD:
Runtime:
Studio:
Criterion Collection
Critic Reviews for Sasame-yuki (Fine Snow)(Hosone yuki)(The Makioka Sisters)
Audience Reviews for Sasame-yuki (Fine Snow)(Hosone yuki)(The Makioka Sisters)
The Makioka Sisters is a divine and superbly made drama about four sisters. I only heard about this film while browsing through a number of Asian films getting releases through the Criterion Collection, and seeing that I have yet to be disappointed by anything released by them, I gave it a shot. Yet again, I have fallen in love with another Asian drama. I don't know what it is about them, exactly, but I seem to be addicted to them like crack. The film starts off in 1938, and follows four sisters: Tsuruko - the eldest and domineering sister, Sachiko, Yukiko - the unmarried sister whose older siblings keep trying to set her up, and Taeko - the rebellious sister whose love life is a whirlwind of less than stellar boyfriends. Tsuruko is intent on preserving their family's traditions, especially as she was the one who raised her sisters after their mother died, while Sachiko is a little more lax than her elder sister, but still tries to maintain the family's image and traditions to a certain degree. But, when it comes to Yukiko and Taeko, they are more intent on forging their own paths in life, even if it means ignoring old traditions. Yukiko never seems to be interested in any man that her elder sisters try to set her up with and she doesn't seem to know what to do with her life. Taeko, on the other hand, when not having troubles in her love life, wants to make a career out of making dolls, perhaps even to travel outside of the country for her artistic pursuits. As the seasons pass and war breaks out, the sisters have a series of conflicts that erupt, between each other, or between the elder sisters and their husbands as their old ways and thinking are turned upside down in a number of events in congruence with the changing times sweeping across their country. But, more importantly, the film is about family and staying close to each other even the worst of times. The story in this film is quite brilliant and I loved how it took its time to dissect all the characters and their lives, rather than trying to rush through them like most other dramas would. Each sister felt like a human being, rather than a cardboard cutout to service the script, making each one feel fascinating and intriguing in their own ways. The script does a great job not only deciphering the four leads, but a number of other characters as well. It felt like a living, breathing world that I was sucked into. The acting is also top notch in every regard, as there is not a single weak performance to be found anywhere in the film. The actors displayed a natural talent and charisma to their characters, and make them come to life as a drama like this should make them. Plus, thanks to their acting, you grow to care about their characters because they make them so believable. If you enjoy a good drama, The Makioka Sisters is definitely one to see...if you have patience. For me, the 140-minute running time felt like nothing because the script, acting, and direction are all so brilliant, but for others, they might not enjoy the very slow pace of the film and long running time. I think it's a brilliant and intelligent film with a lot to say about tradition, family, and changing times. This film is indeed among the greatest dramas I've ever seen and can't recommend it highly enough.
Keenan Sullivan
½
It is Osaka in 1938. Yukiko(Sayuri Yoshinaga) is inquiring about the state of the money left to her by her late parents which her older sister Sachiko(Yoshiko Sakuma) insists was meant to be her dowry. The youngest sister Taeko(Yuko Kotegawa) has similar concerns but is doing quite well with her doll business. Then, Tsuruko(Keiko Kishi), the eldest sister, arrives to inform them that Yukiko's latest suitor is no good since apparently his mother is mentally unwell. At least, Teinosuke(Koji Ishizaka), Sachiko's husband, likes the way she eats. All of that having been settled, the family repairs outside to look at the cherry blossoms. Directed by Kon Ichikawa, "The Makioka Sisters" is an engaging, if overlong, chamber piece. To be fair, after at least two or three endings, everything clicks together with the last scene, encapsulating all that has gone before. This is set in a heremetically sealed world where the cracks are starting to show, not only with Taeko's modern ways in contrast to Yukiko's traditional manners, but also with the advent of several technologies including photography, telephones, airplanes and the radio that are meant to bring people closer together but are instead separating them even further, with the family suffering as a result. Then there is war which is the greatest harbinger of change, whose horrors are kept at a distance(more on this later) but whose effect is being felt through shortages. It also probably explains why it is so hard to find Yukiko a match, as most of the potential partners are in their 40's. And what does it say about a man at that age who has not married yet in a culture that so values marriage?
Sasame-yuki (Fine Snow)(Hosone yuki)(The Makioka Sisters) Quotes
There are no approved quotes yet for this movie.