Scooby Doo & the Samurai Sword
(2009)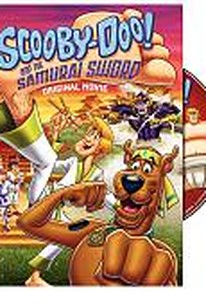 AUDIENCE SCORE
Critic Consensus: No consensus yet.
Scooby Doo & the Samurai Sword Photos
Movie Info
The Mystery Inc. gang experiences the adventure of a lifetime when they travel to Japan on a race to locate the legendary Sword of Fate before the vengeful Black Samurai and his fearsome ninja warriors find it first. An ancient blade said to possess incredible supernatural powers, the Sword of Fate is desired by many. Should the Black Samurai discover it before Scooby-Doo and company, the consequences could be dire for our old friends at Mystery Inc.
Critic Reviews for Scooby Doo & the Samurai Sword
All Critics (1) | Fresh (1) | Rotten (0) | DVD (1)
If you're looking for Old Man Smithers in a mask, you get something along those lines. And if you're looking for a real ghost, well, you might just get that as well.
Audience Reviews for Scooby Doo & the Samurai Sword
½
Daphne is invited to a Karate tournament at a private Dojo in Japan. The meet the Black Samurai and his robotic ninja army soon after they arrive. My sons 3-4 year old watch all the Scoby-Doo movies together. My oldest get a scared by some of the bad guys, but I ask him who is the bad guy and he responds some one we saw earlier in the show wearing a mask. The latest installments including this one diverge from the classic rubber mask formula. If your children are in that easily frightened age probably steer clear of this one and Goblin King and Aloha. These latest versions throw a lot at children besides disreputable real estate people in rubber masks. As a counterpoint to the scariness these version, there is much more discussion material out there than the classic formula version Pre-2000. There is a lot of modern and older Japanese culture watered down to the level of a 5-10 year old level. The movie is 75 minutes, about 15-20 minutes long. We watched it two time so far. At about 55 minutes you reach the classic unmasking of the Black Samurai. My youngest asked if it over but there is 20 minutes more.
Bill Cavros
Super Reviewer
Scooby Doo & the Samurai Sword Quotes
There are no approved quotes yet for this movie.