11'09''01 - September 11
(2002)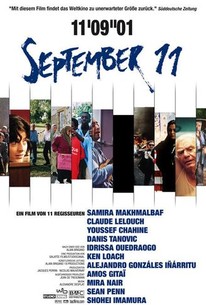 11'09''01 - September 11 Photos
Movie Info
In the aftermath of the tragedies on September 11, 2001, the French film company Studio Canal called upon a group of filmmakers, representing various regions of the world, to address the scope of the situation in however broad or intimate a context as they saw fit. The one guideline they were given was that no one film could exceed 11 minutes, nine seconds, and one frame. The resulting omnibus film, 11'09"01, showed at festivals around the world the following year and garnered a theatrical release in 2003. Each filmmaker's entry takes a different approach: French director Claude Lelouch tells the tale of a World Trade Center tour guide who is on the verge of a breakup with his deaf girlfriend when the terrorist attacks hit; similarly, Hollywood actor-director Sean Penn chronicles the lonely existence of an old man living not far from the Twin Towers. Egyptian director Youssef Chahine and British social realist filmmaker Ken Loach created the most controversy with their entries, which, respectively, address the points-of-view of a suicide bomber and of a Chilean who recalls the brutal coup funded by the United States in his country on September 11, 1973. Alejandro González Iñárritu's piece is the most abstract, taking images from television on the day of the attacks and cutting them with selected bursts of sound. Samira Makhmalbaf, Danis Tanovic, and Idrissa Ouedraogo all tell small-scale stories of the effects of the attacks on tiny villages in Iran, Serbia, and Burkina Faso, respectively.
Critic Reviews for 11'09''01 - September 11
Audience Reviews for 11'09''01 - September 11
Seen Through Many Eyes, Watched in Many Lands In one of the most epic point-missings, I have ever seen, someone on IMDB says that there will be more movies made about the events of September 11, 2001, than about World War II and Vietnam combined. For one, I suspect this person really mean "American" movies, as a lot of not-American countries are far more likely to make films about events which, in many places, actually took place in their countries. Indeed, several of the film's stories include reminders of other events overshadowed in the American mind. Indeed, I could list quite a few, well, dates which will live in infamy which almost certainly will not. Just to throw out an example, I used to babysit for a woman who knew my birthday was on the fifth of December, because it was the day before Pearl Harbor, and everyone knows Pearl Harbor is on the sixth. Obviously, she only gets half credit for this answer, and it's the wrong half. Ask Americans what day the Battle of Gettysburg started. Ask what actually happened on the Fourth of July. The American memory is short, and there are fewer stories to be told of that day. There are eleven stories told. The first is a group of Afghan refugee children in Iran who cannot keep the minute of silence their teacher is trying to make them observe. Next, a deaf woman is writing a letter telling her boyfriend, a tour guide, that she is leaving him. A director is haunted by an American killed in a suicide bombing--and the suicide bomber. A woman is mourning her dead, as she does the eleventh of every month. A group of young boys are hoping to catch Osama bin Laden and claim the reward so they can help their village. A Chilean man writes about what happened on another September eleventh, this time with the collusion of the American government. The Towers, and the people in them, fall. A reporter is taken off the air from reporting a suicide bombing in Israel so that news can be aired about the suicide bombing in New York. A mother must hold fast against accusations that her son was a terrorist. (This one, horribly, based on a true story.) An old man mourns his wife in the shadow of the Towers. A man survives Hiroshima only to lose his mind. Iran. France. Egypt. Bosnia-Herzegovina. Burkina Faso. The United Kingdom. Mexico. Israel. India. The United States. Japan. More stories from more countries could be told, and certainly it could be argued that one or two of them ought to have been replaced. (I like Ernest Borgnine, and I like Sean Penn's directing, but they belonged in a different movie.) The stories from France, Mexico, India, and the US all took place in Manhattan; the one from Egypt had a scene at Arlington. However, what the movie begins to touch on is something most Americans don't consider--the events of September 11 touched other countries, too. The refugee camp opens the film, and it seems little of the children's comprehension problems have to do with understanding the concept of New York. To them, a major event is that two men fell down a deep well--though one girl also mentions an aunt who has been stoned for adultery. Indeed, it feels as though all of us that day shared that sense of incomprehension. Maybe especially the people who were in Manhattan, or at the Pentagon, or in that field in Pennsylvania. Both the angry Chilean man and the frustrated Israeli newscaster remind us, however, that our stories are not new, and our suffering is not unique. Perhaps the method of striking was new, but on another Tuesday in 1973, a coup put a vicious thug in power in Chile, and the US helped. Lives were destroyed--almost certainly, more lives were lost. The quality of the deposed leader is almost irrelevant; certainly it was to the State Department. The point was that he was a dirty, dirty commie. The narrator of the segment is speaking personally of how his own life was destroyed. The Israeli newscaster recites other things which have happened in other years on the eleventh of September, and she doesn't mention Chile, either. The Bosnian women still have their loved ones to mourn. Indeed, those boys in Africa--and, yes, that's where Burkina Faso is, and, no, spell check didn't even know there was such a place--want the $25 million dollars for things like one boy's sick mother. They speak with disdain of the way their fathers would waste it on their own pleasures, because there's AIDS to fight. It is also worth noting that the bombing in the Israeli city has a specific emergency plan followed afterward, and the Egyptian segment tries to get us to understand why anyone would do it in the first place. Which, I will note, probably leads in to the thing which really got to Roger. He says that no one condemns the terrorists. And it's true that at least one segment tries to show us that things are not so black and white. Only one segment really even mentions anyone with any responsibility for the event, and it's those boys in Burkina Faso. That poor woman in the Indian segment must come to terms with the fact that her son is believed to be a terrorist because he was a Muslim of Pakistani birth (and how surprising for the Indian segment to focus on a Pakistani!) who went missing. (It turns out, of course, that he was killed using the medical training he had and the police badge he was no longer entitled to on the scene.) However, I have to say that no condemnation could be more powerful than the segment by Alejandro González Iñárritu, best known for [i]Amores Perros[/i]. He did not, you see, write a story, even to tell a real one. All his imagery and all his audio come from the day, and it ends with that horrifying sound of falling buildings. The film would have been better arranged had it ended there.
Edith Nelson
Gonzalez's short is stunning. It is the best part of this collection which has a generally high standard. Well worth investing in
A unique view on an historical tragedy. Of particular note is Sean Penn's short - very brilliant.
John Ballantine
Super Reviewer
11'09''01 - September 11 Quotes
There are no approved quotes yet for this movie.
Discussion Forum
Discuss 11'09''01 - September 11 on our Movie forum!