Sequins
(2005)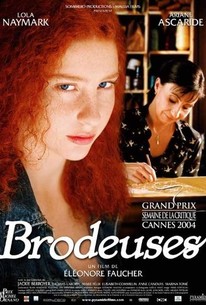 Movie Info
Claire (Lola Naymark of Monsieur Ibrahim) is a teenager who works as a supermarket cashier. She has moved out of her family's home and into a small apartment, partly because she doesn't get along with her parents, and partly because she doesn't want them to find out that she's pregnant. When co-workers begin to comment on her weight gain, Claire tells them she has cancer, and asks for medical leave. While staying with her girlfriend's family, Claire learns that her girlfriend's scarred brother, Guillaume (Thomas Laroppe), was in a motorbike accident, in which his best friend was killed. Guillaume is despondent and has decided to go abroad. Since Claire is looking for work, and has an interest in embroidery, she goes to visit the mother of Guillaume's dead friend. After some hesitation, Madame Mélikian (Ariane Ascaride of The Town Is Quiet) hires Claire to replace her late son as her assistant. Madame Mélikian has a successful business and a wealth of knowledge to pass on to the young woman, but she's nearly paralyzed by her grief. Still, the two eventually form a unique bond. Brodeuses, or Sequins, is the first feature film directed by Éléonore Faucher, who co-wrote the screenplay with Gaëlle Macé. It was shown at the 2004 Cannes Film Festival and was selected by the Film Society of Lincoln Center and the Museum of Modern Art for inclusion in the 2005 edition of New Directors/New Films.
Critic Reviews for Sequins
Audience Reviews for Sequins
A well done character study, this follows a young woman dealing with an unplanned pregnancy. Claire (Lola Naymark) hides her pregnancy from her friends and family as long as she can and even changes jobs to prevent discovery. The job change provides Claire with the sanctuary she needs to begin to come to grips with her situation and to sort out her options, even as she helps her new employer come to grips with her own tragedy. The young actress captivated this viewer. She is quite beautiful with the most luxurious head of red hair this viewer can remember seeing. But her ability to communicate her hidden emotions non-verbally was extraordinary. Ariane Ascaride played her employer, Madame Melikian, and brought a quiet dignity to the role of a mother dealing with the loss of a child. The supporting actors offered solid performances that fleshed out the story. Some lovely scenery and interesting camera work complete the package.
Mark Abell
Super Reviewer
Sequins Quotes
There are no approved quotes yet for this movie.