The Seven-Per-Cent Solution
(1976)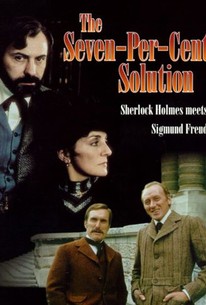 The Seven-Per-Cent Solution Photos
Movie Info
In this Sherlock Holmes adventure, the Great Detective's friend and chronicler Doctor Watson, concerned that Holmes' drug dependency is getting out of hand, suggests a cure under the auspices of Viennese psychoanalyst Sigmund Freud. While undergoing treatment, Holmes undertakes a tricky conspiracy case involving another ex-addict, beautiful actress Lola Devereaux.
Critic Reviews for The Seven-Per-Cent Solution
All Critics (11) | Top Critics (1) | Fresh (9) | Rotten (2) | DVD (2)
It's best seen as a colorful period costume drama that is over 90% flawed.
Uma premissa interessante que, relativamente bem desenvolvida, se beneficia bastante das ótimas atuações do trio principal.
January 11, 2010 | Rating: 3/5
Recommended for all those who occasionally enjoy their movies with a little cerebral spice added
Audience Reviews for The Seven-Per-Cent Solution
½
The production design by Ken Adam, who worked on many of the Bond films, brings much of Victorian England and Vienna to life. Nicholas Meyer's story is directed by Herbert Ross. This time Meyer has Sherlock Holmes meet Sigmund Freud. Williamson plays a manic Holmes, who has a serious addiction to cocaine. His paranoia of Professor Moriarty (Laurence Olivier in a cameo) being a master criminal at the heart of all of London's crime, is simply part of a deeper psychological issue. Duvall plays Holmes' sober and caring friend Dr. Watson, who plans a scheme with Mycroft to get Holmes to Vienna where Freud can help him. Arkin plays Dr. Sigmund Freud. Often pop culture portrays a stereotypical Freud, who is obsessed with sexual symbols and wildly misinterprets dreams, but this version of Freud has more in common with Holmes and his scientific method. The effects of addiction and withdrawal are more honestly dealt with, and since Meyer is a big fan of Conan Doyle, the movie references several plot points from the original mysteries. Moriarty is dealt with in a completely unique way. And Jeremy Kemp plays a villainous Baron out to discredit Freud and escape Holmes. There is a fairly exciting train chase. Though the historical details all looks quite proper, its delivery is a bit tongue-in-cheek.
Byron Brubaker
Super Reviewer
Top cast, but it runs out of steam in the second half and drags it's feet for the rest of the film.
Marcus Woolcott
Super Reviewer
Anthony Valletta
Super Reviewer
The Seven-Per-Cent Solution Quotes
There are no approved quotes yet for this movie.