She's Gotta Have It
(1986)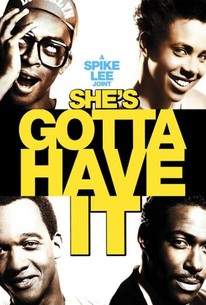 She's Gotta Have It Videos
She's Gotta Have It Photos
Movie Info
Spike Lee's breakthrough independent feature, shot in fifteen days on a budget of $175,000, ushered in (along with Jim Jarmusch's Stranger Than Paradise) the American independent film movement of the 1980s. It was also a groundbreaking film for African-American filmmakers and a welcome change in the representation of blacks in American cinema, depicting men and women of color not as pimps and whores, but as intelligent, upscale urbanites. Lee's slight tale, which carries much psychological and historical baggage, concerns Nola Darling (Tracy Camila Johns), a young, self-assured Brooklyn woman who juggles three boyfriends -- the polite and well-meaning Jamie Overstreet (Tommy Redmond Hicks), the self-obsessed male model Greer Childs (John Canada Terrell), and the comical bicycle messenger Mars Blackmon (Spike Lee). Nola doesn't want to commit to any of her boyfriends, cherishing her personal freedom. But as their relationships with Nola grow, each man wants her for himself.
News & Interviews for She's Gotta Have It
Critic Reviews for She's Gotta Have It
Audience Reviews for She's Gotta Have It
How is it possible that a movie that is worse than the worst home movie imaginable could garner so much critical praise? I don't know, but I'll tell you one thing it looks more like Mr. Lee embezzled a big film budget rather than was working with a small one. People who watch this movie shouldn't pay to watch it,they should be paid to watch it, and hazardous duty pay at that.
Naomi Gonzalostein
½
Spike Lee first real picture is funny. Especially when you consider the fact that Spike was still a student at the time, this film is incredible. The plot is intriguing, although a little more sexual than I wished. The best part about the whole film though, is Spike Lee himself. He's hilarious. An interesting watch.
Samuel Hunter
½
Yeah, the performances don't always hit the mark - at times Tracy Camilla Jones (in her only starring role) and Tommy Redmond Hicks come off a little too 'actorly' - but it's just fine when put into context of Spike Lee giving it his all as his calling card, including a dance number IN COLOR! Thank you, Ernest Dickerson. Hell, even some 25 or so years later the documentary aspect, which has been aped by countless films and TV shows, is fresh and fun, especially with the "Dogs" giving the pick-up lines. And of course there's Mars Blackmon himself... Please baby please, baby baby please please!
Jack Gattanella
She's Gotta Have It Quotes