Shoeshine (Sciuscià)
(1947)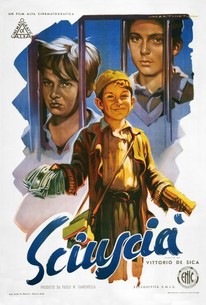 Shoeshine (Sciuscià) Photos
Movie Info
Classic, heartbreaking neo-realist drama of two shoeshine boys who struggle to survive in post-World War II Italy. Their involvement in the black market eventually gets them sent to a reformatory, where the system works to crush their friendship and make them betray each other.
Critic Reviews for Shoeshine (Sciuscià)
Audience Reviews for Shoeshine (Sciuscià)
This drama did not engage me as much as De Sica's Bicycle Thieves. The neorealist practice of using nonprofessional actors works well enough, but many of the characters are not as distinctly drawn. Pasquale and Giuseppe work shining shoes for the lingering G.I.s in order to buy a horse. They get mixed up with Giuseppe's older brother's gang and end up in a juvenile prison. In an interesting twist of the teen crime drama norm, the younger Giuseppe, who has family, is the more hard-nosed one, while the older Pasquale, who is an orphan, is more innocent to the ways of prison. Tragically, trying to do the right thing leads Pasquale to betray Giuseppe's trust. They both encounter complications adjusting to life in prison, but ultimately their friendship is torn apart. This Italian film does not have a happy ending.
Byron Brubaker
Super Reviewer
In "Shoe Shine," Pasquale(Franco Interlenghi) and Giuseppe(Rinaldo Smordoni) are two boys in postwar Italy who work a variety of odd jobs in order to save up to buy a horse. One of those jobs involves selling American blankets to a psychic(Maria Campi). While there, the boys become unintentionally part of a robbery that also ends up giving them enough cash for their horse. The bad news is that this also brings them to the attention of the police who put them in juvenile prison in hopes of getting the names of their adult confederates out of them. "Shoe Shine" is a very moving, yet also occasionally playful, film that also contains a very serious message. If, Bill Hicks notwithstanding, you feel that children are the future(and I think that's why a psychic is involved in the story), then the film makes an excellent case for the authorities squandering Italy's future by treating its orphan children so poorly in jailing and punishing so many, instead of trying to care for them. This is at a time when children were forced to grow up too quickly, anyway, while not being educated in any meaningful way. At least, Pasquale and Giuseppe have an eye on their future by buying a horse as an investment, and not just to ride on.
The film's title is somewhat misleading, suggesting a tale of shoeshine boys scraping out a living in the streets. Actually, that's just the exposition -- at its core, this is a tragedy about two boys who bond via a horse, and then are divided by a reformatory. The score is too unsubtle at times, but the black and white cinematography is exquisite. The untrained young actors are quite affecting, and if you have a soft spot for crying children (and who doesn't?), grab some Kleenex beforehand.
Eric Broome
Super Reviewer
Shoeshine (Sciuscià) Quotes
There are no approved quotes yet for this movie.