Shoulder Arms
(1918)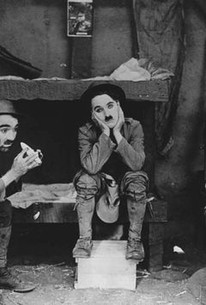 AUDIENCE SCORE
Critic Consensus: No consensus yet.
Movie Info
This film was Charlie Chaplin's final contribution to the WWI effort. Chaplin is a member of the "Awkward Squad" and we first see him being put through his paces in training camp. He has problems with making a proper about-face and with marching, constantly annoying his drill sergeant.
Critic Reviews for Shoulder Arms
Audience Reviews for Shoulder Arms
½
Whether you served in the military or just learned to march in high school band, you'll appreciate the opening gags in boot camp with new recruit Charlie. The next thing Charlie knows, he's heading to the front lines of WWI "Over There." From a flooding bunk room off of the trenches, to waiting for presents from home, and engaging with the German enemy Charlie must mature as a soldier quickly. Loyal Underwood as the short German officer is blustery and funny. And like Sergeant York, Doughboy Charlie somehow manages to single-handedly surround a troop of Germans. Chaplin's brother and Purviance join him again in a later plot to capture someone higher up in the German command. Charlie becomes a supremely confidant soldier, but is it only wishful thinking.
Byron Brubaker
Super Reviewer
Another of Chaplin's shorts from 1918, "Shoulder Arms" was his second million dollar film and proved extremely popular with troops returning home. The film features Charlie Chaplin as The Recruit and while not dressed in his usual The Tramp attire, makes a completely hilarious soldier. After showcasing his shooting skills and other talents, most of which are done with little enthusiasm, The Recruit spends his downtime in a little bunk room to rest. It's here that one of the most absurd and hilarious sequences takes place during a heavy rain as the bunk fills with water and Charlie tries to lay down and sleep in his bed underneath the water. This and one other scene had me laughing uncontrollably and that is near the latter part of the film when Charlie dresses up in a tree outfit and goes behind enemy lines taking down the unsuspecting enemy soldiers in his getup. The absurdity as well as Chaplin's willingness to tackle even the most tricky of subjects including religion, war, and even playing an extreme likeness to Hitler himself prove that he wasn't afraid to make anything a joke. This is a great and funny short that is so over the top goofy that you can't help but love it!
Chris Browning
Super Reviewer
The "Little Tramp" wardrobe is missing from this one, as soldier Charlie becomes an unlikely World War I hero. The funniest sequences involve struggling to sleep in a flooded barracks and spying on the Germans via a tree disguise.
Eric Broome
Super Reviewer