Silent Night, Deadly Night 5: The Toymaker
(1991)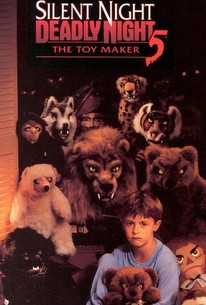 AUDIENCE SCORE
Critic Consensus: No consensus yet.
Movie Info
In this horror film, malicious toymaker Joe Petto (Mickey Rooney) and his creepy son, Pino (Brian Bremer), terrorize the residents of a small town with the deadly toys they create. After her husband is killed by one of Petto's toys, Sarah (Jane Higginson) and her troubled son Derek (William Thorne) set out to stop the evil toymaker.
Critic Reviews for Silent Night, Deadly Night 5: The Toymaker
All Critics (1) | Fresh (0) | Rotten (1)
Junky direct-to-video pap, and only the fact that it does, for a brief spell, involve a murderous Santa Claus gives it any sort of leg up over the other films in its series.
Audience Reviews for Silent Night, Deadly Night 5: The Toymaker
Awful fifth film in this tiresome series, where the only good film was the first. This film relies on a different angle for its plot, but doesn't work for the audience's advantage. The series ends on a terrible note, and it's no surprise because this is the fourth sequel and it's clear that the filmmakers have run out of ideas, and are overdoing everything in trying to deliver a mindless horror yarn. This is a bad film in every sense of the word. I really don't see why they kept the series going. This is lazy filmmaking and you can see the result on-screen, the film just isn't interesting, fun or entertaining. This is a poorly crafted horror film, and considering that this was straight to video, it's no surprise as to why this film is bad. Fans of the first Silent Night, Deadly Night will be disappointed with this one as this is just another run of the mill dud that doesn't do anything new or original with its material. I liked the original, but the sequels are just horrible films with no direction. This fifth film just doesn't have anything going for it. This is thankfully the final entry in this series. This is just a stupid, tiresome film that is more boring than entertaining. Avoid it, and stick with the original, at least that was a good film. This one just fails on so many levels, that you ask yourself what you were watching. This definitely not worth your time.
So here we are at part 5 in the "Silent Night, Deadly Night" series, a series that was starting to overstay it's welcome by this point. Some would say it did that long ago, but personally I like parts 2-4 to varying degrees and was glad the makers of 4 gave it one more go around. Like 4, 5 has nothing to do with the storyline in 1-3, but instead goes for a more "Puppet Master" kind of story. Pros: Overall an entertaining experience. Genuinely good performances. Good special, visual, and mechanical effects work. Some good twisted humour. A twist that I won't give away. Creative kills. Cons: There have been so many killer toy movies that came before this one, so we've seen most of this before. Pace drags at times. Though it's nice to see Neith Hunter and Conan Yuzna reprise their roles from 4, they really aren't needed here. Aside from some good shots and camera tricks, the direction is pretty bland and the film looks like a TV movie. Final thoughts: OK so perhaps the world didn't need another sequel to the controversial 1984 slasher film, but so what? They made 10 sequels to "Friday the 13th" and 7 to "Halloween," so why not 4 to "Silent Night, Deadly Night"? If you liked the previous 4 then go ahead and give this one a try.
Cassandra Maples
Super Reviewer
Silent Night, Deadly Night 5: The Toymaker Quotes
There are no approved quotes yet for this movie.