Silent Night, Deadly Night III: Better Watch Out!
(1989)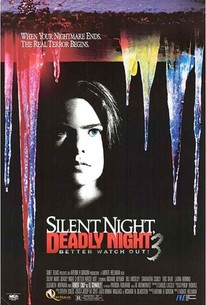 AUDIENCE SCORE
Critic Consensus: No consensus yet.
Silent Night, Deadly Night III: Better Watch Out! Photos
Movie Info
A young blind girl develops a mysterious psychic link with a comatose killer in this slasher sequel. When the killer recovers, he sets out upon another murderous rampage, and only the young girl holds the power to stop him -- if she doesn't first become the next victim.
Critic Reviews for Silent Night, Deadly Night III: Better Watch Out!
All Critics (2) | Fresh (0) | Rotten (2)
Very much at the level of quality you'd predict and anticipate for a direct-to-video slasher sequel from 1989.
Eventually the dumb characters and miniscule plot catch up and surpass anything that might have had auteur interest, but I'm still curious as to how and why Hellman made this.
Audience Reviews for Silent Night, Deadly Night III: Better Watch Out!
Third attempt at delivering a sequel with the Silent Night, Deadly Night franchise is a bland, poorly constructed film with poor acting, and directing by Monte Hellman who changes up the flavor of the series quite a bit. This is a tired out film where bad ideas plague the script because the filmmakers at this point in the game really don't care how the series ends up. This is a poorly executed film and it just doesn't offer anything interesting, good or new for that matter. This is a poorly acted film with a sloppy story and bad directing. Considering that veteran horror actor Bill Mosely stars in this, you'd think it would be a good little film. Unfortunately, the filmmakers haven't learned their lesson with the bad second entry of the series, and scrap the bottom of the barrel of bad ideas yet again. The films script lacks any substance and the cast look bored on-screen. If you're expecting a good film, you'll be disappointed. There's nothing worthwhile in this film to make it worth seeing. Yet another pointless sequel made to make more money. There's not an ounce of quality in this film to make it worth watching. This is just a bad film that relies too much on a sloppily written script for guidance. Don't go in expecting a good film, you won't find it here. This is a poor script that just fails right from the start.
Dr.Newbury has saved the life of the hideously injured Ricky Caldwell.The doctor has encased his patient's explosive brain inside a Plexiglas cap,yet he has failed to revive him from his deep coma.In Newbury's attempt to reach the comatose victim's mind,he connects Ricky's brain waves to a gifted clairvoyant,Laura Anderson,who unexpectedly taps into the dark and twisted realm of his haunted dreams.Ghastly things begin to happen and detective Connoly(Robert Culp),must fight to stop the dangerous experiment."Silent Night,Deadly Night 3" is a mediocre horror film at its best.The pace is horrendously slow,the script is terrible and the acting is weak.Still there are some interesting camera angles and the film is suitably interesting.The next sequel was a completely unrelated gorefest from Brian Yuzna,whose unusual vision?often rejected by series fans?was at least a change of pace.
Cassandra Maples
Super Reviewer
Silent Night, Deadly Night III: Better Watch Out! Quotes
There are no approved quotes yet for this movie.