Silent Souls
(2011)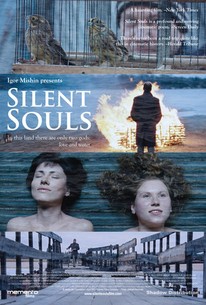 Silent Souls Videos
Silent Souls Photos
Movie Info
When Miron's beloved wife Tanya passes away, he asks his best friend Aist to help him say goodbye to her according to the rituals of the Merja culture, an ancient Finno-Ugric tribe from Lake Nero, a picturesque region in West-Central Russia. Although the Merja people assimilated into Russians in the 17th century, their myths and traditions live on in their descendants' modern life. The two men set out on a road trip thousands of miles across the boundless land, with them, two small birds in a cage. Along the way, as is custom for the Merjans, Miron shares intimate memories of his conjugal life. But as they reach the banks of the sacred lake where they will forever part with the body, he realizes he wasn't the only one in love with Tanya... -- (C) Shadow Distribution
Rating:
NR
Genre:
,
Directed By:
Written By:
In Theaters:
On DVD:
Runtime:
Studio:
Watch it now
Cast
Critic Reviews for Silent Souls
Audience Reviews for Silent Souls
½
In "Silent Souls," Aist(Igor Sergeev) is the son of a famous poet. Having failed to write anything of his own, Aist works in a paper factory. While making time with a female security guard, he is called to the office of Miron(Yuriy Tsurilo), his boss. It's not about that, however. See, Miron's younger wife Tanya(Yuliya Aug) has just died and he needs help in attending to the appropriate funeral rites. Since this might take a few days, Aist, takes along the birds, buntings, that he just bought. "Silent Souls" is a rather beguiling movie. If it is oddly so, it is perhaps the way an outsider, or the viewer, sees the customs shown which are fading away in this modern world.(The scene in the box store exemplifies this clash of worlds.) In any case, the narration is definitely necessary, as else we might come to a thoroughly different conclusion as to what is really happening.(Like for instance, that Miron murdered the unhappy Tanya which I am not entirely ruling out.) We see all of this mostly over the characters' shoulders which does make it kind of hard to focus on them at times while the movie's deliberate pace does wonders in establishing a keen sense of loneliness. Even with the funereal mood, I am wondering how seriously to take the movie at times, considering the awful poetry, not as bad as Vogon poetry, mind you, but still bad, which is pretty ridiculous.
'Silent Souls'. Long, patient takes, meticulous direction, stunning imagery, and a strange old tale of holding onto the past.
Extremely intimate in subject and style, this film fascinates from the start. The adaptation is a little more literal than it should be, and the ending is a startling film school cheat, but this road movie is well worth the trip.
Christien Tuttle
Discussion Forum
Discuss Silent Souls on our Movie forum!
News & Features