Sione's Wedding (Samoan Wedding)
(2006)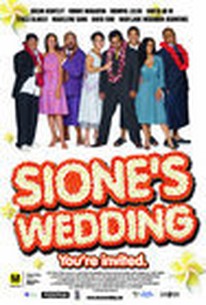 Movie Info
A woman preparing for the biggest day in her life finds her wedding plans thwarted by his well-intending brother and his painfully immature friends in a matrimonial comedy with a decidedly Samoan twist. Sione is about to get married, but he knows that when his brother and his friends show up chaos will be quick to follow. Though the rowdy foursome are all well into their thirties, their reckless behavior suggests a maturity level of sixteen at best. When Sione bans the entire group from his upcoming wedding, they are forced to find dates in hopes that the bride will relent if they each arrive in the company of a true lady. ~ Jason Buchanan, Rovi
Critic Reviews for Sione's Wedding (Samoan Wedding)
Audience Reviews for Sione's Wedding (Samoan Wedding)
½
I don't know if this movie will mean much to you if you don't live in New Zealand. It is an affectionate and bawdy view of Samoan culture.
½
Ahhh New Zealand, it's good to live here. Aside from the casting, the film is excellent!!!!
Sylvester Kuo
Super Reviewer
½
Hilarious comedy! I couldn't stop laughing throughout this movie. Movie about four buddies in their 30's whom still party like they are in their teen years. Known for wrecking previous weddings they have attended, they are now banned from their little brother's wedding from the Elders unless they shape up. haha! Pretty funny movie. :)
Donna Dawson
Super Reviewer
Sione's Wedding (Samoan Wedding) Quotes
There are no approved quotes yet for this movie.