Skeletons
(2010)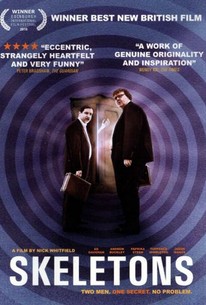 Movie Info
If there's something lurking in your closet -- a guilty secret, a past mistake -- on-call emotional exorcists Davis and Bennett can help you out. That is, until their own deeper feelings start to creep forth and interrupt their work. Is Davis 'glow-chasing' -- cannibalising his own past for kicks? Could Bennett be getting in too deep with an alluring new client? And what exactly are the risks of attempting to exterminate the past?
Critic Reviews for Skeletons
Audience Reviews for Skeletons
Thank you Richard for recomending this! An eccentricly Charlie Kaufman-esque award winning gem (Edinburgh festival) that is worth watching, uses large dozes of dry British humour to deliver a strangely heartfelt, and very funny story with a lead duo that can only be compared to Travolta/Jackson in Pulp Fiction.
Nicolas Korovessis
Super Reviewer
½
Unusual British comedy. Two professional ... well, I'm not sure what the word is for what they are,.... two professional thingys then .... extract skeletons from peoples closets, metaphysically and literally, with the aid of a hummy thing with lights and a comprehensive questionnaire to be completed first by the closet owners. In order to get promotion, they take on a tricky case but it proves more complicated than they expect. Dot dot dot. More giggly than belly-laugh full , with a sweet centre.
. . .
Skeletons Quotes
There are no approved quotes yet for this movie.