Sukai Kurora (The Sky Crawlers)
(2008)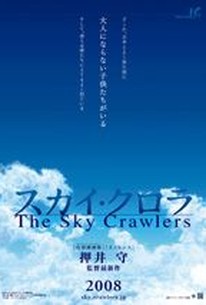 Sukai Kurora (The Sky Crawlers) Videos
Sukai Kurora (The Sky Crawlers) Photos
Movie Info
This sci-fi tinged, full-length anime feature opens on a peaceful future, where Earth has left the violent conflicts of war in the past. Human nature still craves the clash of battle, however, so private companies now stage "war as entertainment," creating fictional wars for ordinary people to read about in the paper. These companies call exclusively on the services of young people known as Kildren. One such Kildren - a young man named Yuichi - has been newly assigned to a base in the fictional war, but with no memory of his past and a mysterious woman named Suito watching his every move, Yuichi is about to find that this made-up war isn't as harmless as it seems. ~ Cammila Albertson, Rovi
Rating:
PG-13
Genre:
, , ,
Directed By:
Written By:
In Theaters:
On DVD:
Runtime:
Studio:
Critic Reviews for Sukai Kurora (The Sky Crawlers)
Audience Reviews for Sukai Kurora (The Sky Crawlers)
½
The sky crawlers is a very well done movie and a very good book though like Meany films it takes more then one watch though to understand and get throw it. The book is really good no doubt some people would have waited years to see a film or an animation version of it and finally we get one. With some fantastic battle scenes in the sky and on the ground it proves to be some what of a very slow movie. Though this movie was also nearly on the list for the 81st academy awards for best animated feature. The Sky Crawlers is set in an alternate history where, although the world is at peace, in order to ease the tension of a populace accustomed to war and aggression, private corporations contract fighter pilots to stage combat operations against each other for show. The film introduces a mystery involving characters called Kildren humanoids genetically designed to live eternally in adolescence until shot down in air battles presented commercially for entertainment, after which they are reproduced by cloning. Has a great story that can be very slow moving but its good. 90% for story it can be slow at times but I really liked it 80% for acting and dubbing they really do sound great 80% for animation it's greatly done but could have been better 100% for special effects they are just mind blowing these plane scenes are not animated but both CGI and animation 70% for characters would could have known more about them but overall fine 80% for everything else. But take my word it takes more then 1 watch but its worth it. Keiko's score 90-100
It's astonishing how much heart, soul and depth they managed to incorporate in this gently told, unique story, despite the sterile, but at the same time strangely sophisticated nature of it's characters. This is an adult Japanese anime in a psychological drama, not much as an action-adventure, and it has a very quiet, reserved pacing. The CGI aerial combat sequences were amazing?dizzying and spectacular, with intricately designed air vehicles that spurred the imagination. The characters' emotional depths were thoroughly mined?although not always pleasantly so. The character design and art direction were top notch?the CGI segments were almost photo-realistic, and the 2D segments were beautifully drawn and lighted, too.
Dean McKenna
Super Reviewer
Gorgeous to look, but completely pointless in whatever it was trying to say. Is the kind of movie that feels more like solving a riddle than watching a story unfold, why do the characters behave in certain ways? Who is fighting who? Why are these kids fighting? Why they won't age? Who knows, who cares. At the end i felt i knew even less about the characters as the story progressed, and eventually couldn't care about any of them. Oshii should consider a different career choice.
Tsubaki Sanjuro
Super Reviewer
Sukai Kurora (The Sky Crawlers) Quotes
There are no approved quotes yet for this movie.
Discussion Forum
Discuss Sukai Kurora (The Sky Crawlers) on our Movie forum!