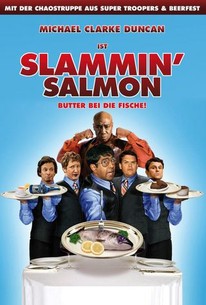 The Slammin' Salmon
2009, Comedy, 1h 38m
26 Reviews
5,000+ Ratings
What to know
critics consensus
Potty humor and juvenile antics keep this workplace comedy from being particularly funny or memorable. Read critic reviews
Where to watch
Rent/buy
Rent/buy
Rent/buy
Rate And Review
The Slammin' Salmon Photos
Movie Info
A restaurant owner (Michael Clarke Duncan) pits members of his wait staff against one another in a competition to make the largest amount of cash in one night.
News & Interviews for The Slammin' Salmon
Audience Reviews for The Slammin' Salmon
Though not outright bad, The Slammin' Salmon is possessed of much less of their trademark timeless (and brainless) humour than the majority of Broken Lizards work. Instead, here they opt for gross out and cliche laughs, very few of which land. Even the the amazing cast additions of Michael Clarke Duncan, Lance Henriksen, Cobie Smulders, Will Forte and Sendhil Ramamurthy couldn't elevate this film above merely "watchable". For the same thing, only better, watch 2005's "Waiting...".

Cleon Salmon: You know what ten grand feels like in your pocket? It feels like a third cock. "Bring a bib, it's gonna get messy." The Slammin Salmon is exactly what you'd expect it to be if you've seen Super Troopers and Beerfest. It's a moderately funny, obscene, disgusting, and just an overall average comedy. Just as with Super Troopers and Beerfest, it's easy watching and enjoyable, but there's definitely something missing to take it to another level and make it a more than just average comedy. The Slammin Salmon is the name of a high end, seafood restaurant owned by a former boxing champion that still uses his size and past triumphs to intimidate his employees. The movie follows one night of business in the restaurant as we learn that The Champ lost a bet and owes a Japanese man $20,000. In order that the restaurant isn't taken away, he tells the manager that he must make sure they make the $20,000 in one night. Then he gives the workers some incentive by saying the top selling waiter or waitress of the night will be given $10,000. There's definitely a level of fun to be had while watching The Slammin Salmon, but it is also a highly forgettable film, which seems to be the motif with these filmmakers movies. It will appeal to some much more than it did for me, but I view this in the same way as Super Troopers and Beerfest. Their okay, but in the end there's nothing too special or great going on. It's worth a look if you like the actors and the previous movies from them. If not, stay far away because The Slammin Salmon isn't going to change your mind. In the end, all you need to do is turn your brain off and watch the ridiculousness which is The Slammin Salmon. 

This isn't Broken Lizard's strongest film, but it still has plenty of laughs - and where it really succeeds is in it's pace: there're so many characters and so much going on that the film never stalls or drags. It's also never predictable (ish). Michael Clarke Duncan does claim the majority of the laughs, but it's still very much worth a watch.

This movie reminds me a lot of Waiting... although it seems much less mean-spirited, somehow. The plot revolves around the wait staff of a restaurant who are pushed to sell-sell-sell to make up the money thier boss - the ex-heavyweight champ of the boxing world - lost in a bet to the Yakuza. Michael Clarke Duncan is an absolute comedic genius, and brings a playful and somewhat childish menace to Cleon Salmon and his nuanced naivety. But everybody is great in this, and Kevin Heffernan appears to have a great flair for visual composition and colour. The script in this movie is hilarious, and each character is very human as an individual and very believable as part of a team. The actors and thus characters have great rapport with each other. Oh man, this movie is delightful. I don't always strike gold in the cheap movie bins at Blockbusters, but the movie gods did indeed smile upon me.
See Details