Slaughter Night
(2006)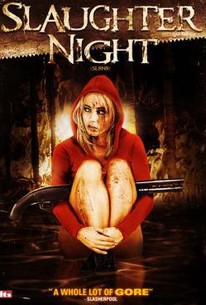 AUDIENCE SCORE
Critic Consensus: No consensus yet.
Movie Info
A teenage girl attempting to gather the materials for a book her father had been writing at the time of his death becomes trapped in an abandoned mine and forced to do battle with the malevolent entity on which the tome was based in director Frank van Geloven's demonic slasher flick. Kristel (Victoria Koblenko) was arguing with her father during a late night drive when tragedy struck. Now saddled with the knowledge that her late father was one the verge of finishing a book about an early-19th Century child killer who had made a deal with the devil in exchange for the ability to move in and out of hell, Kristel and a group of friends travel to the mine shaft where her father had been doing research in order to retrieve his personal belongings. After arriving at the site and gathering her father's materials, Kristel and company are persuaded to venture 200 feet underground in order to take a guided tour of the mine. During the tour, it's revealed that during the time that the mine was in operation condemned convicts were offered the opportunity to avoid the hangman's noose by testing the shaft for deadly methane gas; if the criminal survived the excursion they were subsequently granted complete immunity for their crimes. The maniac behind those horrific child murderers had taken such a gamble after being given that option, and by all accounts perished in the subsequent explosion. When the tour is over and the elevator to the surface fails, the group playfully attempts to kill some time by communicating with the dead via the ouija board that belonged to Kristel's father. Unfortunately for all involved, the spiritualistic apparatus opens a portal through which the demonic spirit of the child killer passes, immediately possessing one of the teens and driving her on a murderous rampage. Now, as the rest of the trapped tourists attempt to make the way through the underground maze and to the perceived safety of the surface, a supernatural killer leaps from body to body in a bloody attempt to locate a mysterious treasure while collecting as many severed heads as possible.
Critic Reviews for Slaughter Night
There are no critic reviews yet for Slaughter Night. Keep checking Rotten Tomatoes for updates!
Audience Reviews for Slaughter Night
Got a copy on dvd while i was in holland.What a great slasher flick it was.Took me back to those 80's flicks that i grew up on.Gory SFX and never took itself serourly a great 90 mins or so.
Brian De Guelle
Super Reviewer
Plays out as more of a suspense film at first, but when the gore hits, it does so in amusingly grotesque fashion.
½
Good horror film. You've seen it all before, but if your like me, when has that ever stopped you from enjoying something? But enough with the shaky camera already!
Christopher Brown
Super Reviewer
Slaughter Night Quotes
There are no approved quotes yet for this movie.
Discussion Forum
Discuss Slaughter Night on our Movie forum!