Slave Girls from Beyond Infinity
(1987)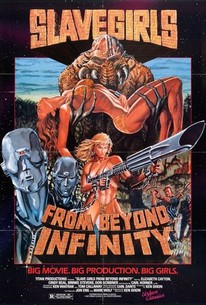 AUDIENCE SCORE
Critic Consensus: No consensus yet.
Slave Girls from Beyond Infinity Photos
Movie Info
When a pair of attractive female slaves escape from their captors, they find themselves stranded on a strange jungle-covered planet. While the girls explore their new surroundings, they discover that they are being hunted by the planet's ruler.
Critic Reviews for Slave Girls from Beyond Infinity
There are no critic reviews yet for Slave Girls from Beyond Infinity. Keep checking Rotten Tomatoes for updates!
Audience Reviews for Slave Girls from Beyond Infinity
Incredibly awful and hilarious acting, exploitative beyond belief, horrible costumes/creature design and a complete nonsense of a story/dialogues makes up for this entertaining piece of trash. For fans only, the title says it all.
Francisco Godinho
Super Reviewer
"Alone, he'll only pick us off one at a time. The three of us outnumber him." There are two kinds of horrible acting. There's the kind that makes a movie painful to watch, and there's the kind that makes a movie hilariously entertaining. Slave Girls from Infinity fits into the later category. It's an example of the very cheapest, lowest budget B-movies, and half of the fun comes from how awful these "actors" are. The other half comes from seeing the half-naked slave girls running around jungles in bikinis and lingerie. The story is a half-hearted riff on "The Most Dangerous Game", featuring our two slave girls escaping from a slave starship and landing on a planet where their rescuer is eventually revealed to be an evil (as well as campy and flamboyant) killer. And there's two utterly useless (and occasionally pervy) androids. And mutant. And a zombie. And a "Phantom Zone". And the most hilariously random, awkward, ad impromptu love scene I've ever seen in a movie. The dialogue is beyond terrible, the sets are reused over and over, and the inside of the spaceships and special effects wouldn't look out of place in a middle school play in 1982. Needless to say, camp value is through the roof. It's also the ONLY reason to watch this. If you like a good bad movie, you're in luck.
Slave Girls from Beyond Infinity Quotes
There are no approved quotes yet for this movie.